Back around Thanksgiving, the bus company that I work for gave me (and every other employee) a frozen turkey. This kind gesture is a throwback to another era when employees were given a token of appreciation at the holidays for the work they did. That turkey or ham might have meant that a family could have a real holiday dinner. Today we are more jaded and some of us are better off so that a small turkey seems like small potatoes (sorry, odd analogy) to some. Still, it is 12 pounds more  turkey than I have ever received from any other company I've worked for.
The gift turkey had resided in my rather small freezer since then and the time had come to allow it to do more than take up space. So, not long ago, I thawed it and prepared it to give my family the gift of roast turkey. I prepared it simply stuffing it with lemons and onions fresh thyme and garlic. I rubbed it inside, outside and under the skin with smoked paprika herb butter. It emerged golden brown and yielded moist meat that our family enjoyed casually in shifts. This was definitely not a traditional turkey dinner. Twice Baked Potatoes and Broccoli Slaw were the only accompaniments. More than a little "picking" took place and I personally enjoyed my share standing next to the stove.
The thing about turkey is there is a lot of it. Even a small bird offers many meals. While we have enjoyed the sandwiches, pot pie, and continued "picking," the carcass, those skeletal remains, is perhaps the best gift of all. A bit of meat, some skin, and of course those bones wherein the flavor lies are waiting to transform on the stove.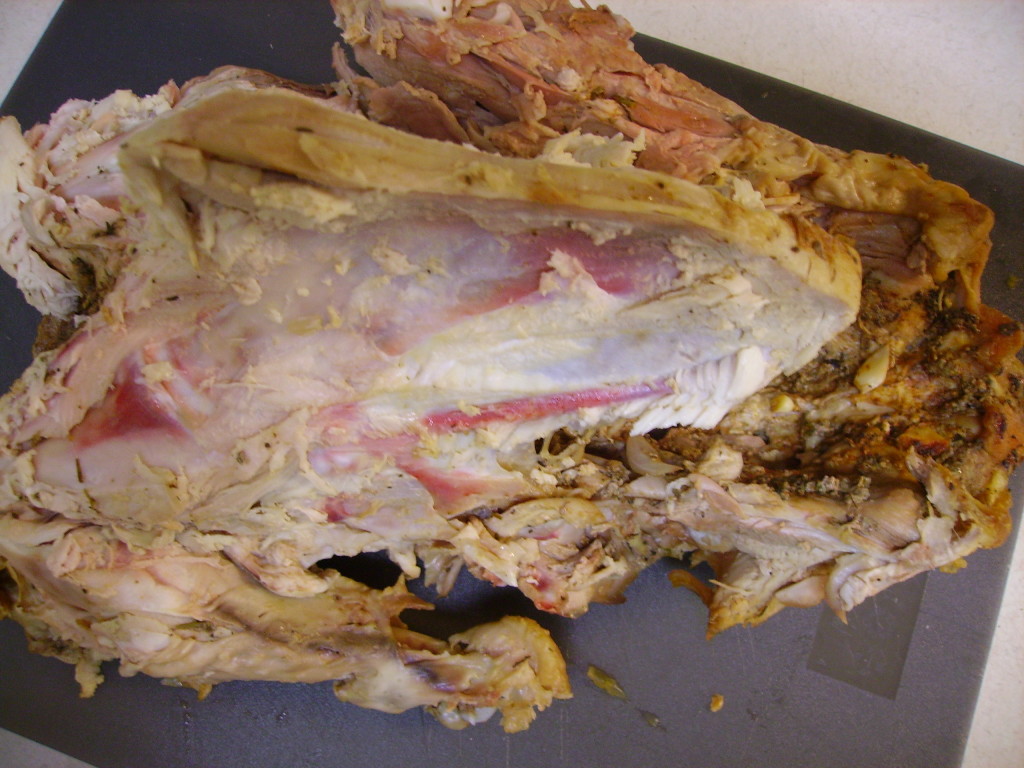 That's why Mama D made turkey stock. I've shared recipes for chicken and vegetable stock before and the process for turkey stock isn't all that different except maybe for needing a bigger pot. A mirepoix is sweat in a soup pot.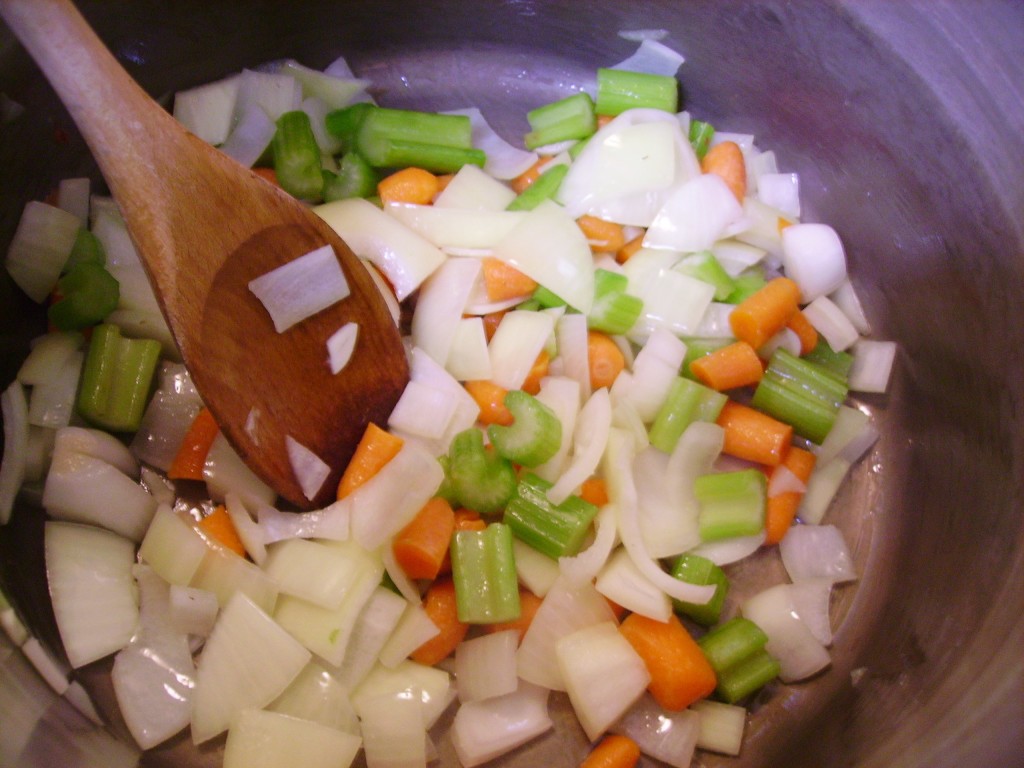 Then water, heat, and time work their magic and stock is born.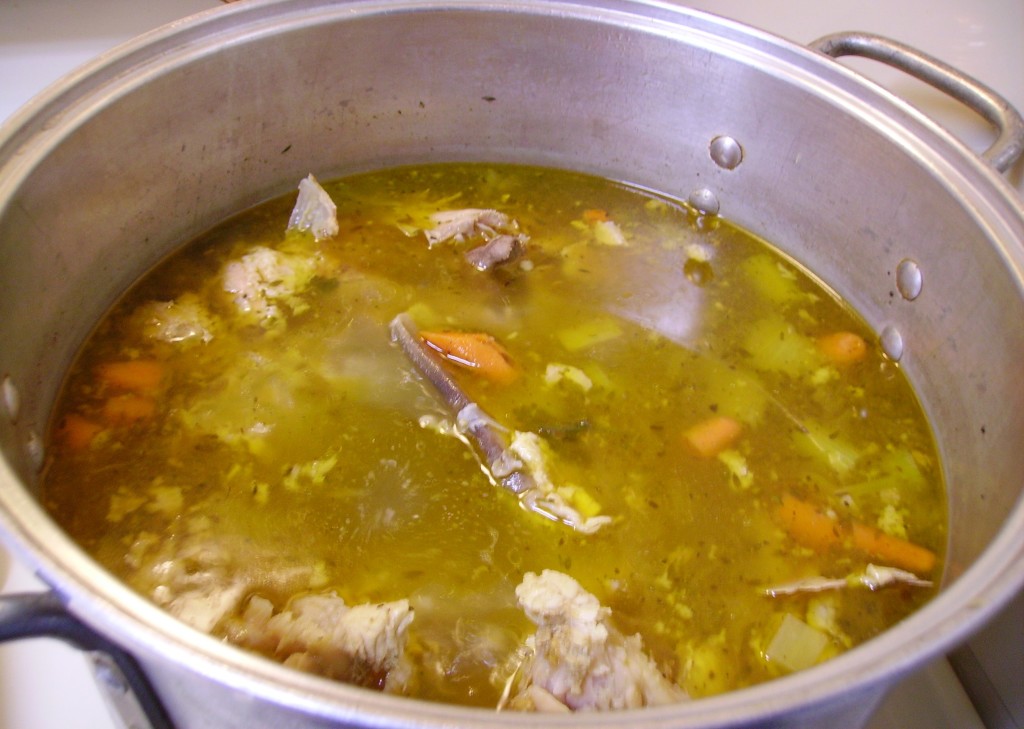 While the straining process isn't pretty, it is necessary as is a cool down, to allow the fat to rise leaving golden goodness. To accomplish this, I used my large "walk out" refrigerator.
The resulting stock was divided into manageable portions, and the next layer of the gift of turkey began.
One gift that I particularly enjoyed was a wonderful Turkey Sausage Soup. I was in the mood for something with a little spicy Southwestern feel, so I started with some spicy smoked turkey sausage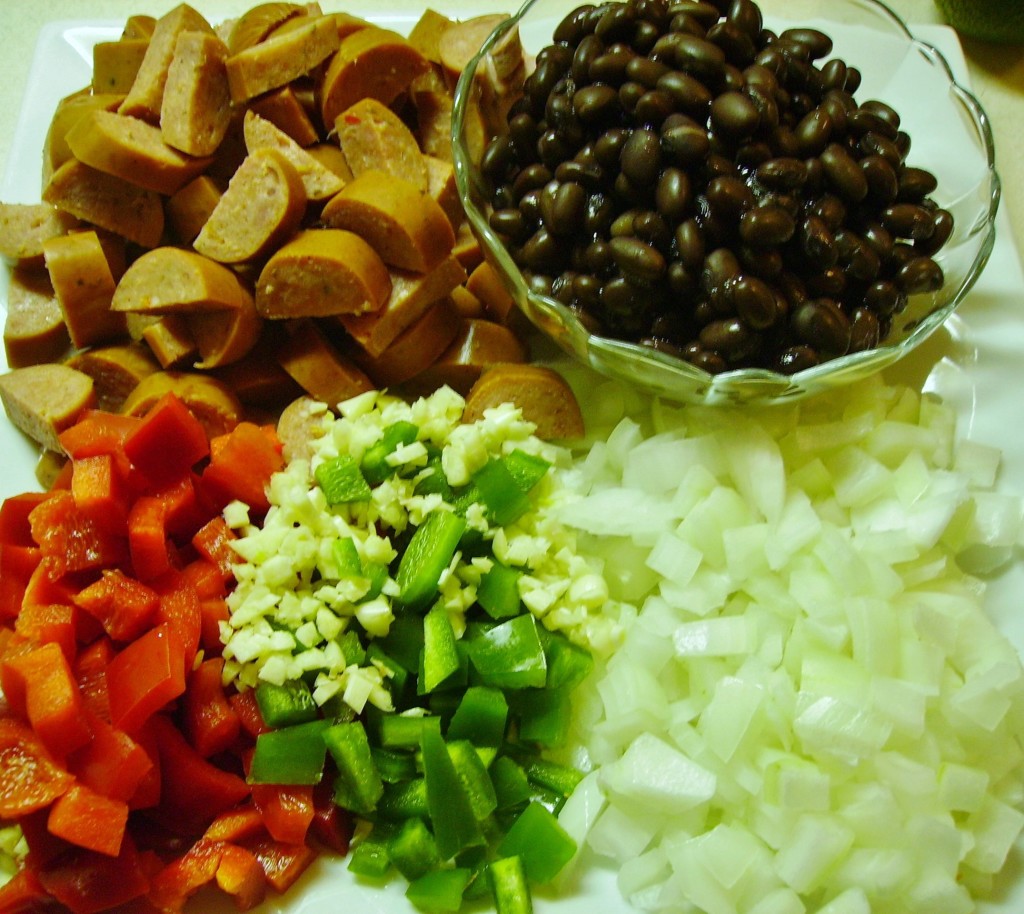 and added a bit of jalapeno and the requisite onions and garlic. Black beans and red bell peppers further enhanced the flavor profile. For a little twist on ingredients, I added some roasted sweet potato. I roasted it and added it to the soup near the end of cooking so that it would keep more of its flavor and texture.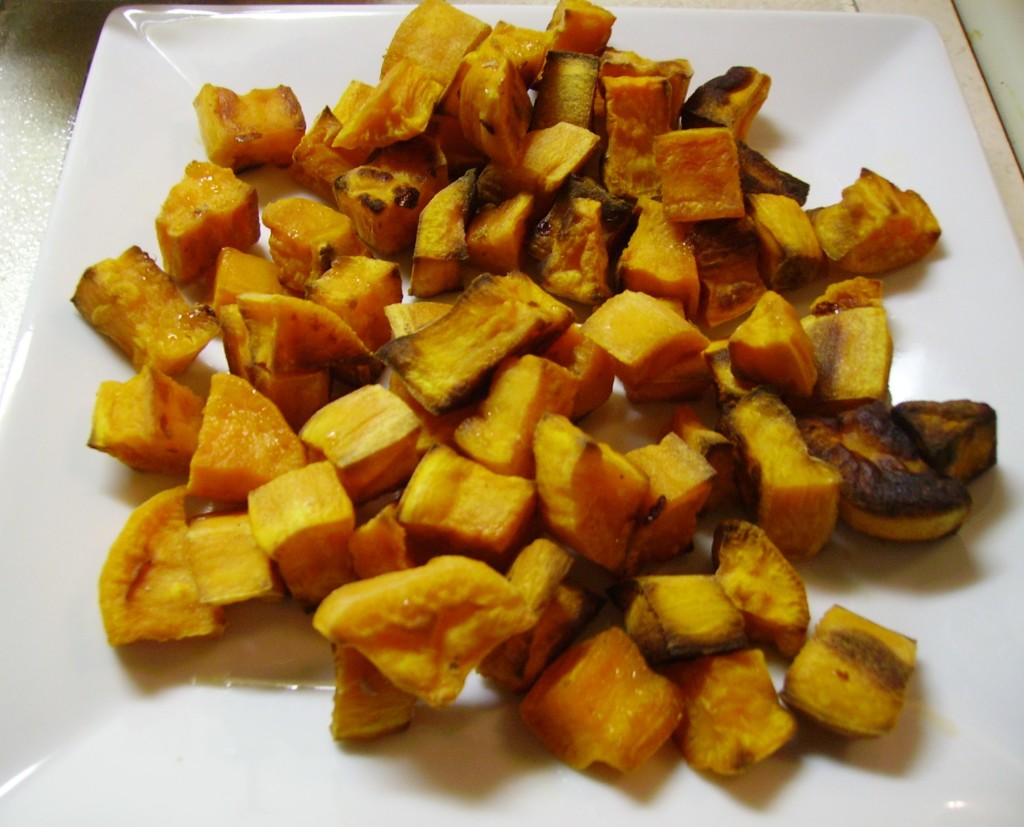 I relied on a good bit of cumin and a modest amount of ancho chili powder to season the soup. This would be great with any chili powder that you like and you can make it as spicy (or not) as you want. That's the beauty of soup. some aromatic vegetables, good stock and your imagination result in a pot of goodness that warms the body, soul, and heart.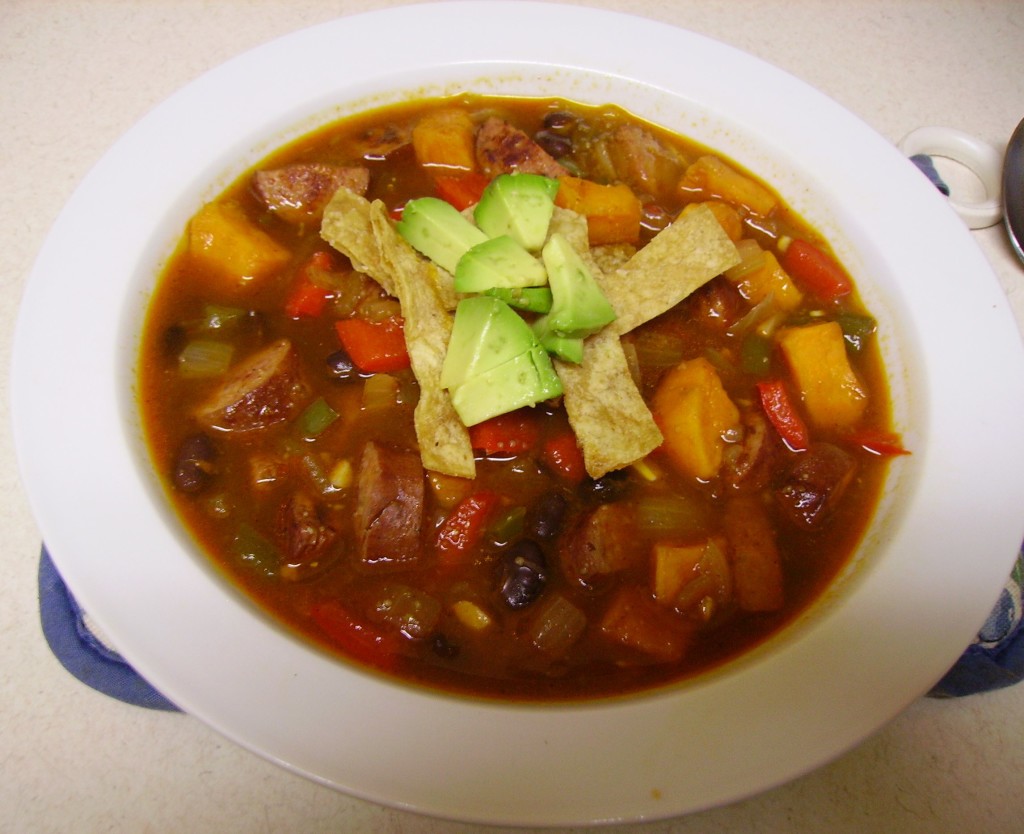 I finished the soup with lime juice and topped it with a few home-baked tortilla strips (Cut corn tortillas in strips and lay on a baking sheet coat lightly with olive oil cooking spray and sprinkle with salt. Bake 7 minutes at 325 degrees, turn, repeat the spray and salt routine and bake for 7 minutes more.) and some avocado. This was good lovin' in a bowl that was even better the next day.
Instructions
Spray a small baking pan with cooking spray and add the sweet potato cubes. Spray the cubes lightly with cooking spray and roast in a pre-heated 375 degree oven for 15 - 20 minutes, until the cubes are lightly browned and tender. Set aside.

While the potatoes are cooking, cut the sausage in half lengthwise then slice into 1/2 inch half moons. Heat a large soup pot over medium high heat. Add the olive oil and swirl to cover the bottom of the pan.

Add the sausage moons and toss to coat. Cook for 7 minutes or so until the sausage begins to brown. Transfer to a plate using a slotted spoon leaving the drippings in the pan.

Add the onions to the pan and stir to coat with the drippings. Cook for 5 minutes until the onion begins to soften and brown.

Add the peppers and garlic to the pan and cook, stirring occasionally for another 5 minutes or so. The peppers should begin to soften and the garlic should be fragrant. Use a very small amount of the stock if things get too dry.

Return the sausage to the pan. Add the cumin and chili powder. Cook and stir for 2 - 3 minutes. Pour in the stock. Bring just to a boil. Reduce the heat to medium and simmer for 30 minutes or so.

Add the reserved sweet potato and the drained beans to the pot and cook over low heat another 10 minutes. Squeeze the juice of the lime into the soup. Stir and taste to adjust the seasonings.

Ladle into four soup bowls. Top with a few tortilla chips and some avocado cubes and serve.
The turkey will live on to bestow more gifts of love since there are several more bags of stock in the freezer. I don't know what they will turn into, but I will think of that kind gesture of the gift of turkey when I use them.