It's that time of the year. The time of year when thoughts turn to seafood for dinner. For some it is religious or cultural. For others it may be a way to bring warmer weather to mind. For many of us it is a quick and healthy dinner that feels like dining out. Whatever the reason, seafood is a great dinner alternative and here's Mama D's latest seafood adventure.
Hands down, my favorite seafood is shrimp. They come in at a relatively reasonable price which is always a plus for me. They cook quickly which means dinner can be ready in less time. They are versatile and can adapt to many cuisines. They are delightfully sweet and just the right amount of bland so that they take well to whatever you choose to dress them with.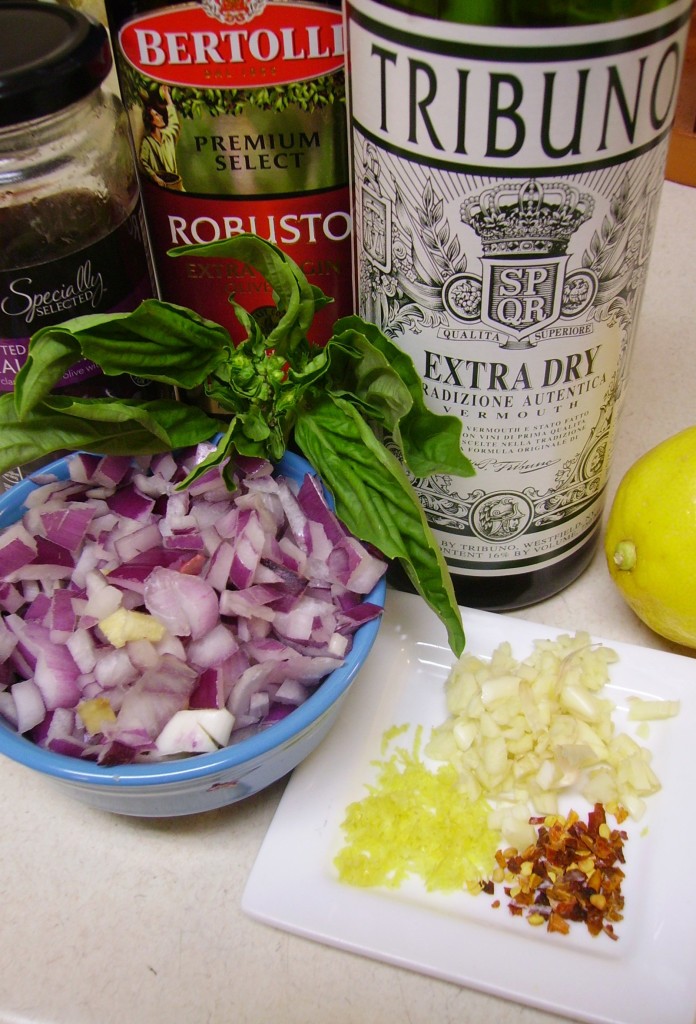 Where I live, we are landlocked and fresh shrimp are usually an unattainable luxury. Fortunately, there are many varieties of frozen shrimp available and some of them are quite good. It is a little "you get what you pay for" and a lot " buy the ones that taste best to you." I found the ones that I like best at Aldi. They are Jumbo E-Z Peel and come in a 12 ounce bag. Once they thaw and you peel and devein them you wind up with about 9 ounces of delicious shrimp which in Mama D's book feeds two people very nicely.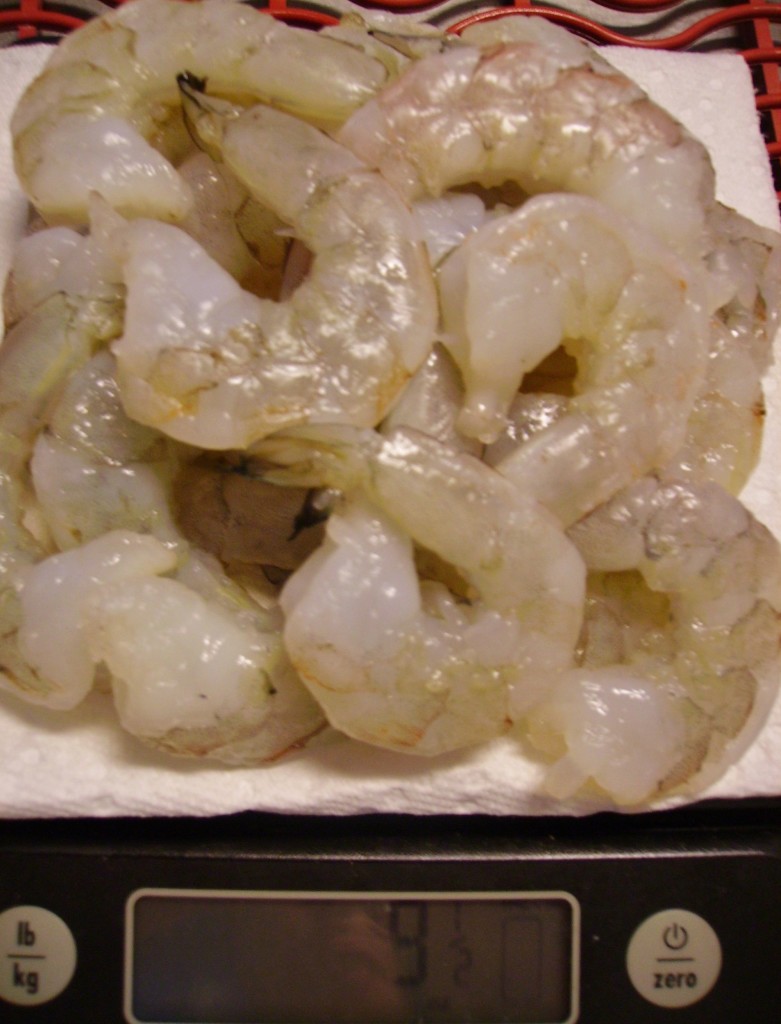 My current favorite way to prepare shrimp is to marinate them in olive oil, lemon juice and zest, garlic and pepper flakes.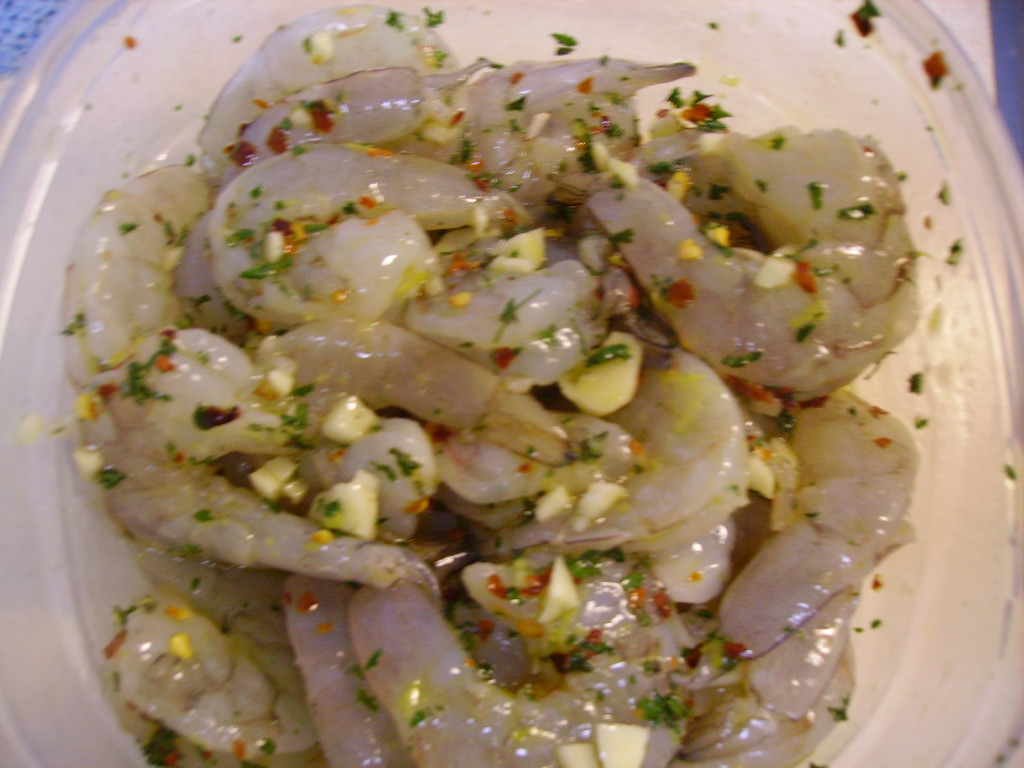 In recent adventures I have taken these marvelously marinated morsels to the grill.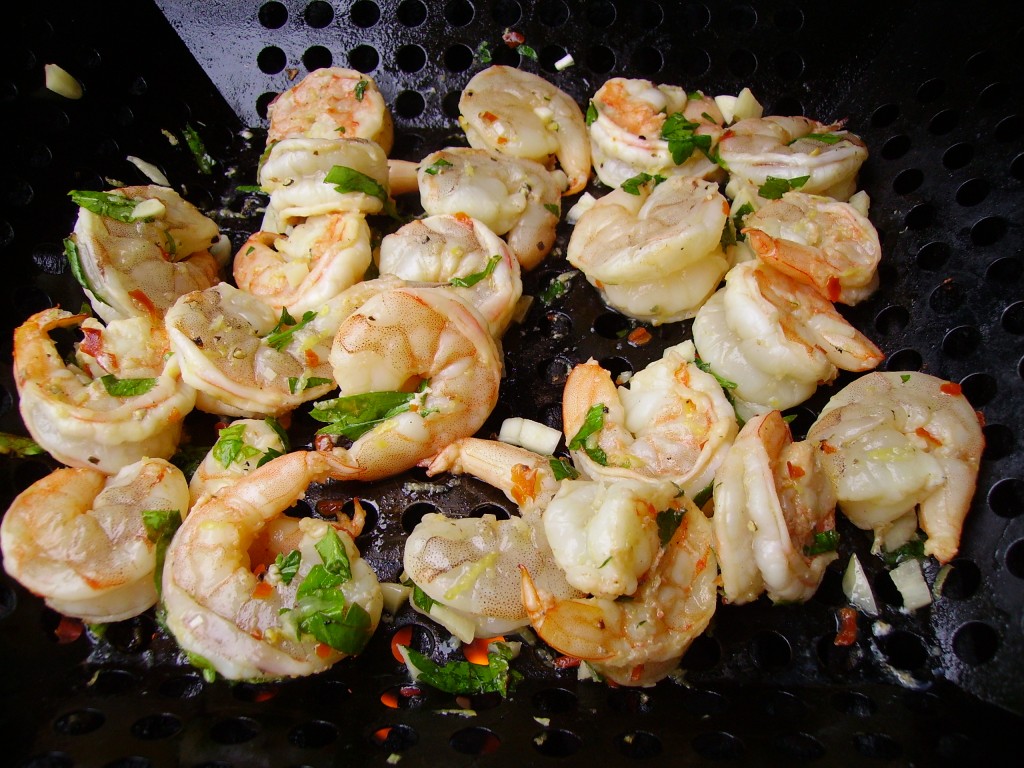 I skewered and broiled them for Christmas Eve dinner too, but my current favorite way to cook them is to roast them in the oven. This is quick and easy and with a foil lined baking sheet easy to clean up.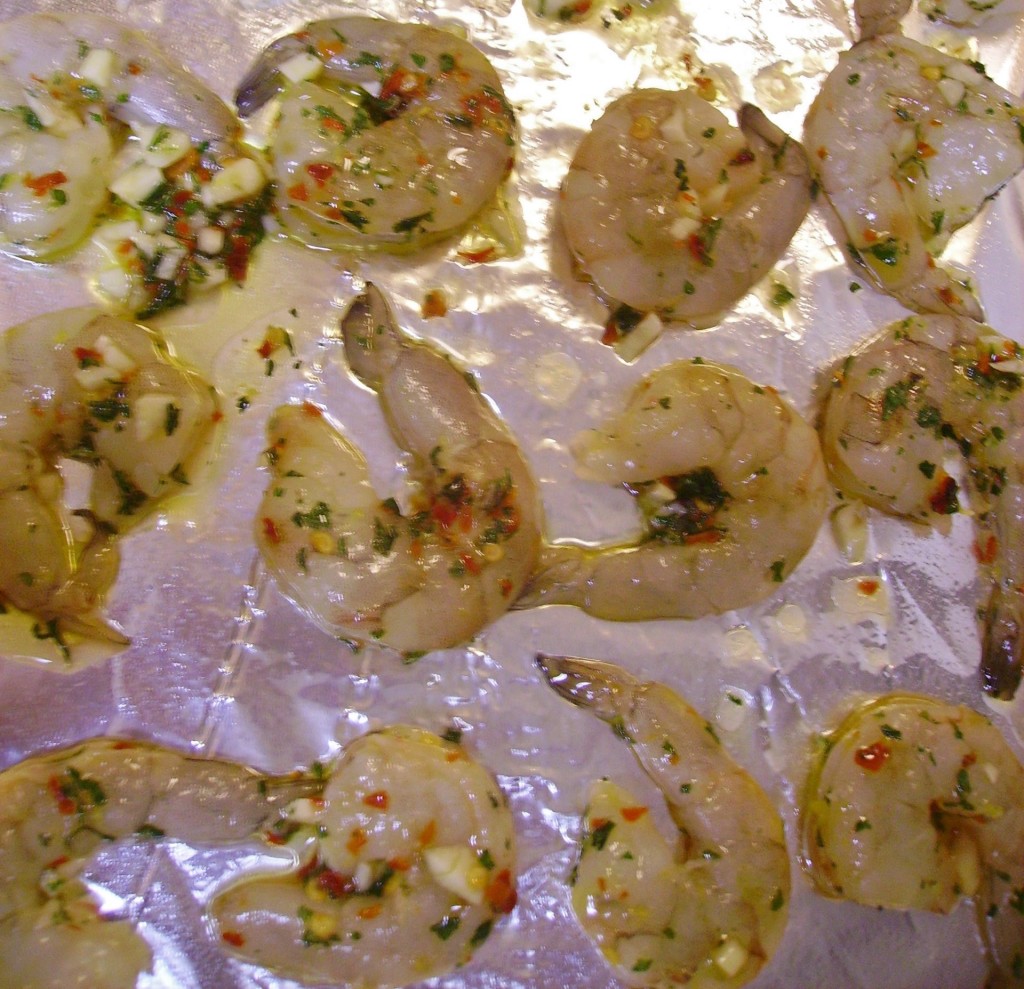 Roasting the shrimp only takes about four minutes. The result is perfectly tender and subtly pink bites of heaven.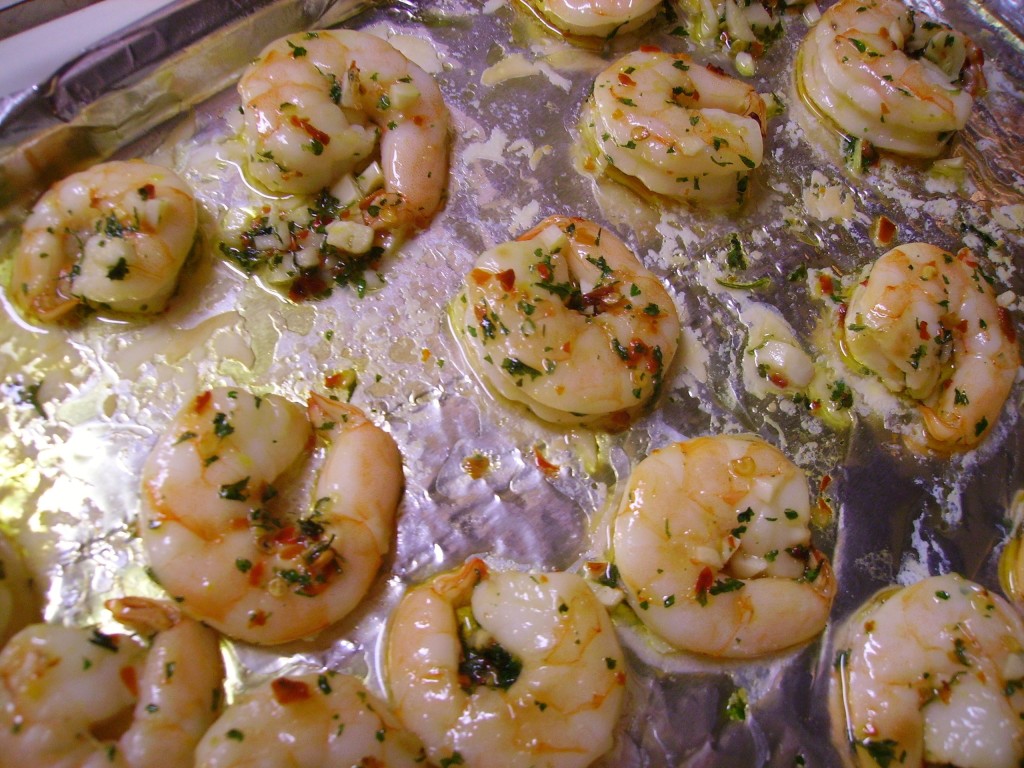 The inspiration for this dish came from a recipe in Cooking Light Magazine. I took their recipe for Roasted Shrimp and White Beans and ran with it. It started and ended much like the recipe, but I took some liberties, well a lot of liberties, in the middle. I used cannellini beans and red onion  just like the recipe.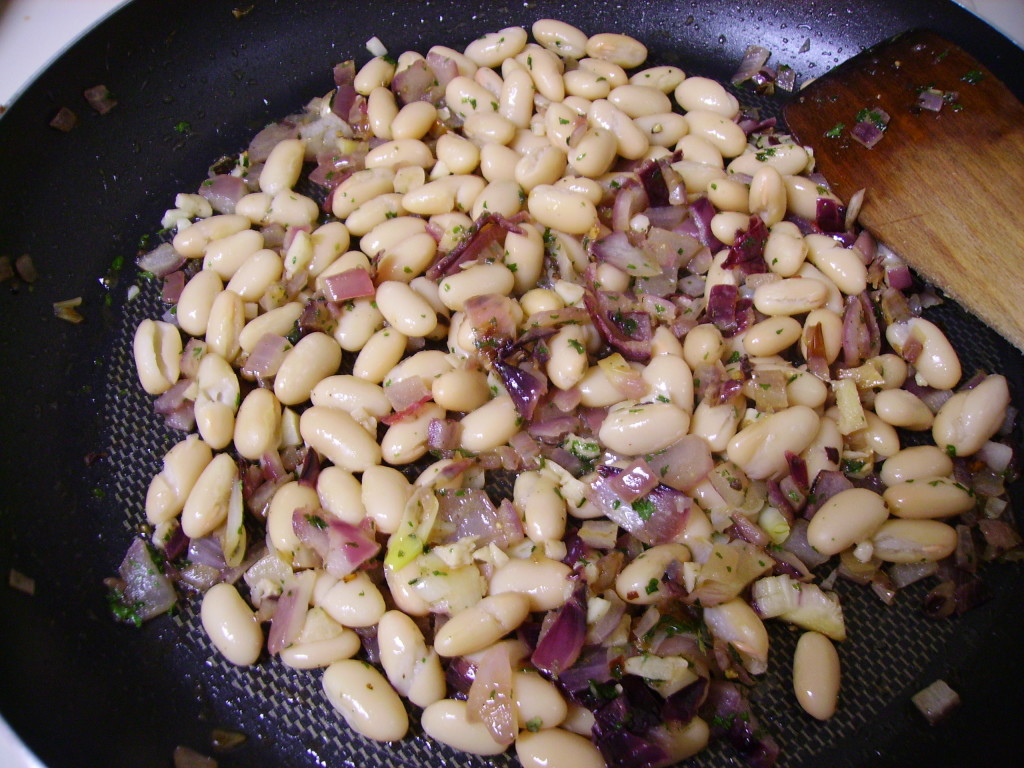 I added some garlic, well a lot of garlic, and a few red pepper flakes.This mirrored the marinade ingredients. I added some dry vermouth and sliced Kalamata olives. My herb of choice was basil and I used the juice and zest of  a whole lemon for extra zing. I garnished with crumbled feta cheese much as the original recipe called for.
This resulted in a side that was the ideal compliment to the shrimp. It was a plate of love with the kiss of the Mediterranean.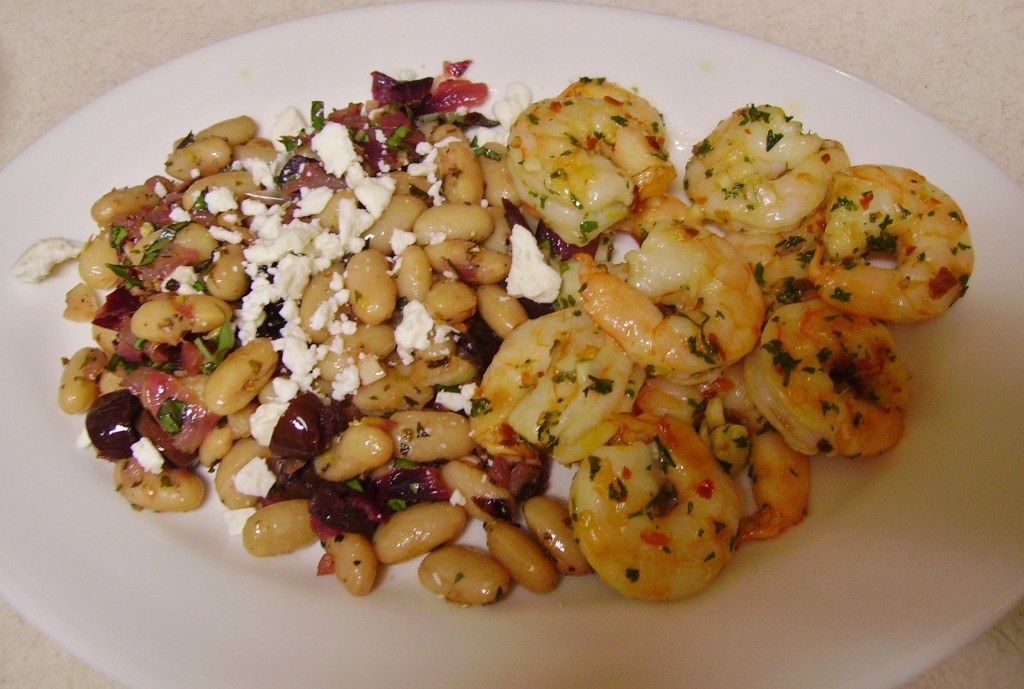 Feel free to adapt this to your own taste. Other herbs like mint or parsley would be great. Adjust the amount of lemon to match the amount of pucker you like. Go ahead and use more pepper flakes or leave them out. I'd really like you to make this your own.
Instructions

Shrimp
Place the shrimp that have been well dried in a container with a lid.

Combine the marinade ingredients in a small bowl. Pour the marinade over the shrimp and stir to coat the shrimp evenly with the marinade. Allow to marinate for at least 20 minutes and as long as 4 hours.

Preheat oven to 450 degrees. Line a baking sheet with aluminum foil. Spray the foil generously with olive oil cooking spray. Place the shrimp on the sheet in a single layer making sure that they do not touch.

Bake for 4 minutes. Shrimp should be translucent and pink. Remove from oven and keep warm.
Beans
Heat the olive oil in a large fry pan. Add the red onion and cook 5 minutes until the onion has softened. Add the garlic and pepper flakes and cook another minute.

Add the beans to the pan. Cook for 2 - 3 minutes. Add the vermouth and cook for another minute.

Add the lemon juice, lemon zest, and Kalamata olives. Cook another minute or two. Add the basil and toss to combine.

Divide the bean mixture between two plates. Divide the shrimp between the two plates.

Top each serving of the beans with half of the feta cheese. Drizzle with olive oil and a squeeze of lemon juice if desired and serve.
All this needs is a salad, and perhaps some crusty bread. Never fear if you don't have either, it's wonderful on its own.
If shrimp are on the menu, can Spring be far behind? I hope so… Love, Mama D