Having established my supper parameters, I'd like to share another recipe that fits my working definition of Supper, more or less. This also is a Meatless Monday Meal that can be considered gluten-free, more or less.
I remember my mother's stuffed peppers. she started with large green bell peppers  that she filled with a mixture of rice, tomato sauce, and ground beef. They roasted  in her oval dutch oven until they were tender and golden. They were hearty and satisfying, yet a little boring. Now that I am entering into a Stuffed Pepper Supper, I wanted something a little more adventurous. I have shared another Stuffed Pepper Recipe that is more of what my mother's used to be but with a distinctive Italian flavor. This time out I was feeling a bit Southwestern and the resulting dish really goes in that direction. I was also looking for something that was quick and easy and this recipe delivers on that level as well.
I chose Poblano Peppers as the vessel, cutting the tops off to create  boats of deep green. These were more like a canoe than a boat and that is how the "overstuffed" came to be to be in the name.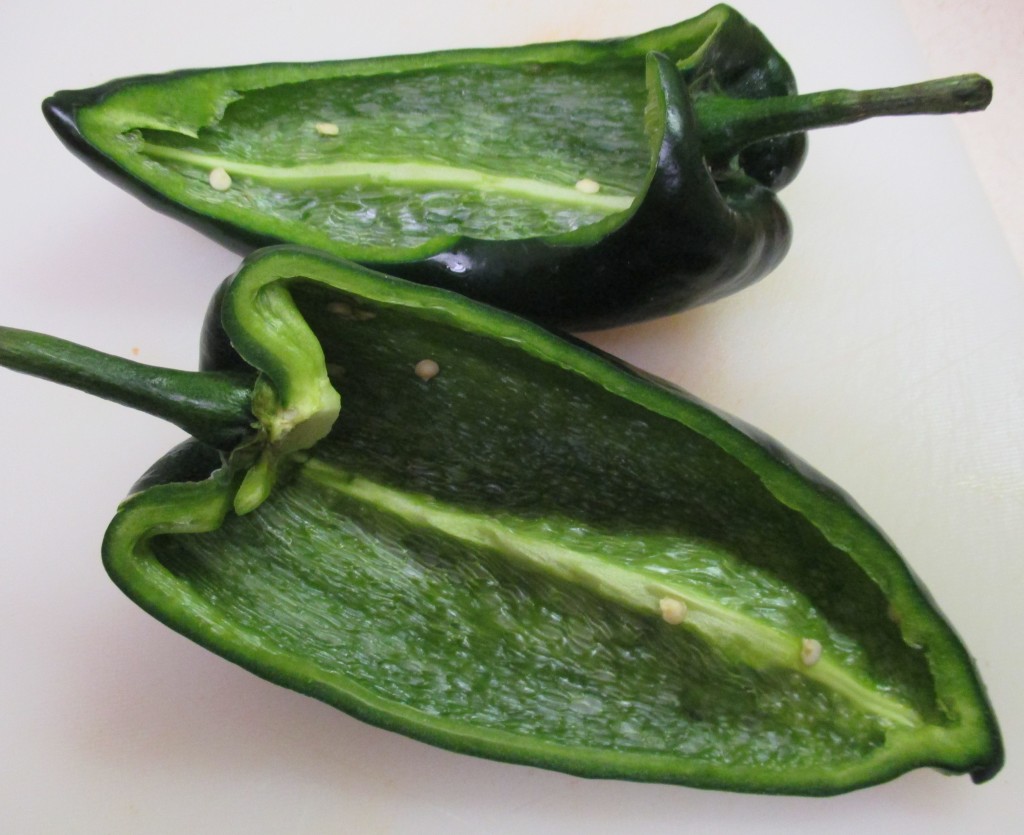 The poblano pepper tops joined red and green bell pepper along with some jalapeno to create the veggie base. Of course it wouldn't be a Mama D recipe if there wasn't some onion and garlic, so that made a noticeable presence. These ingredients all got happy as they sautéed in some olive oil.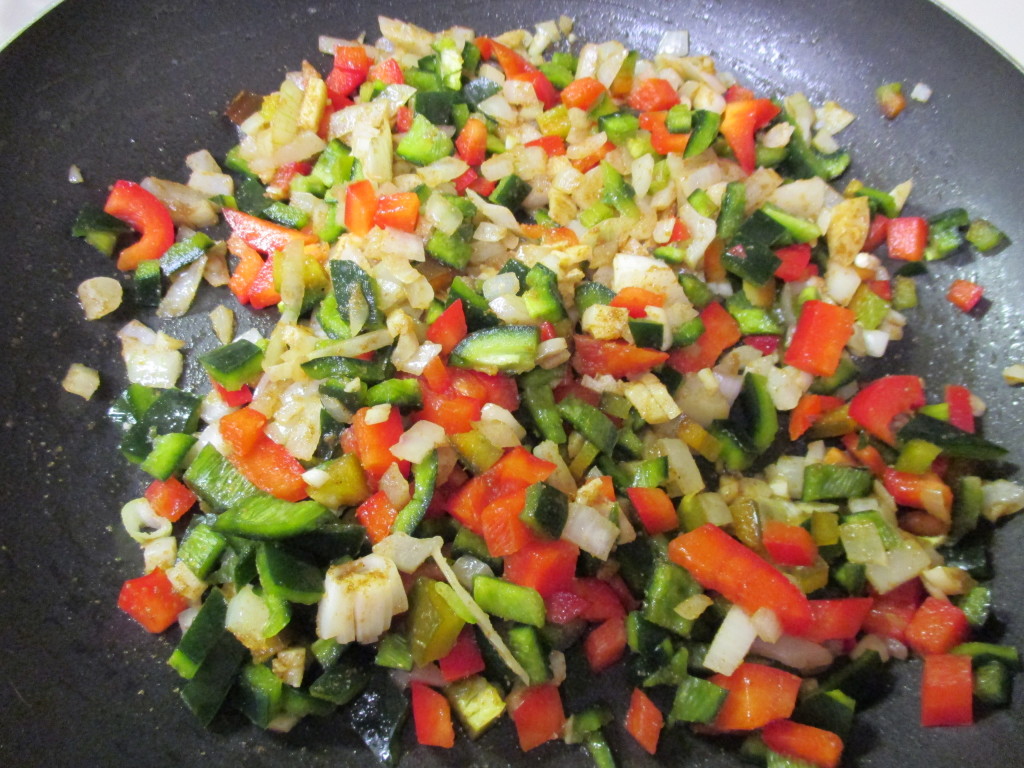 Brown rice came along as the starch. This is a great use for leftover rice or any other grain for that matter, because you only need a cup or so. Mine wasn't leftover which allowed me to cook it in some vegetable stock that was seasoned with cumin and chili powder. You can always give that Latin flair to your leftovers by adding some of the above spices to you grain.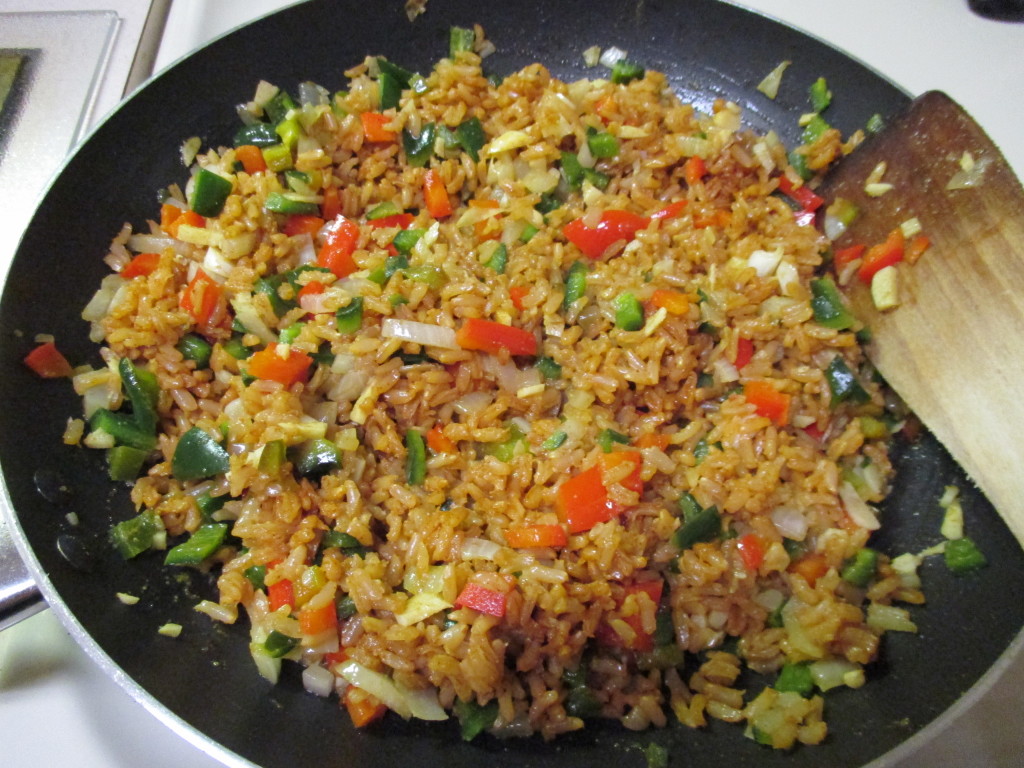 Instead of the usual tomato sauce, I used some Red Chili Sauce that I had in the freezer. I've shared this recipe before and it's another great item to make ahead and have for occasions such as this.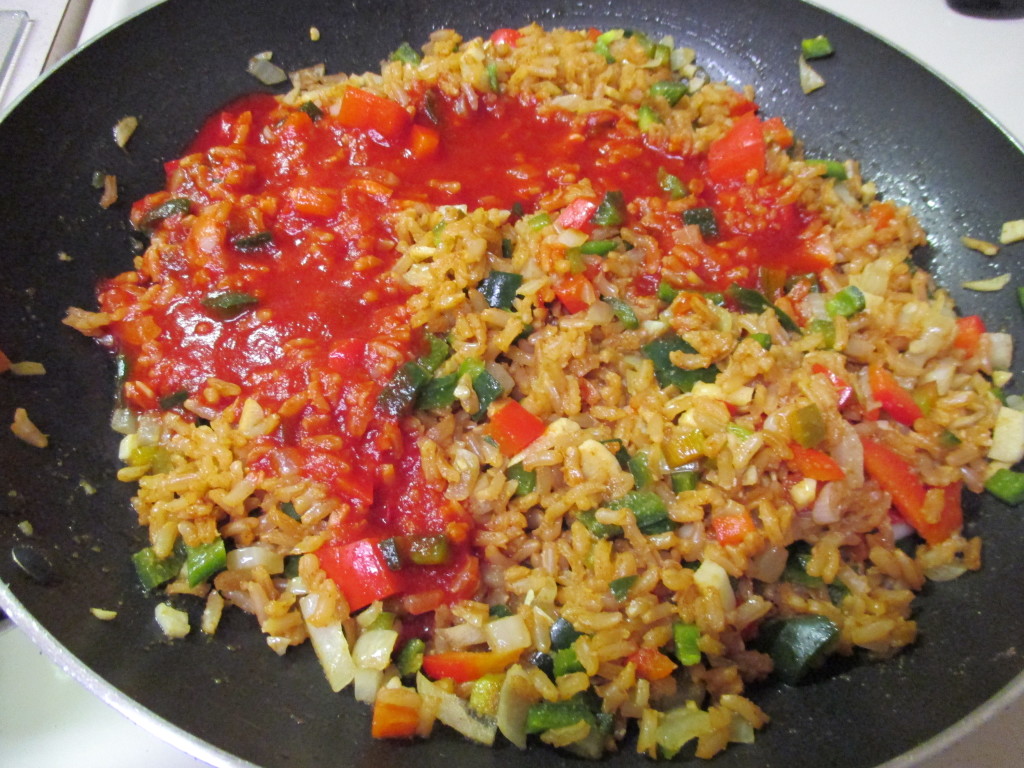 Last but not least, I added a can of Black Beans.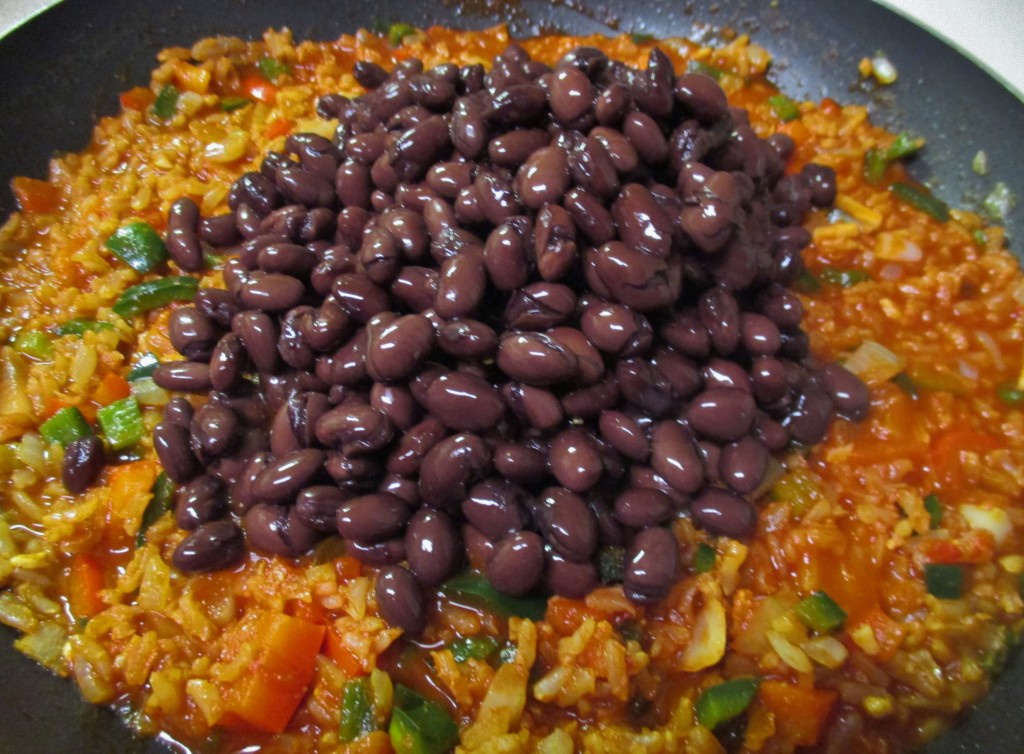 These were the reduced sodium variety that are becoming easier to find these days.Everything simmered together for 10 minutes or so before it was spooned into the pepper boats until they were quite overflowing and in serious danger of sinking.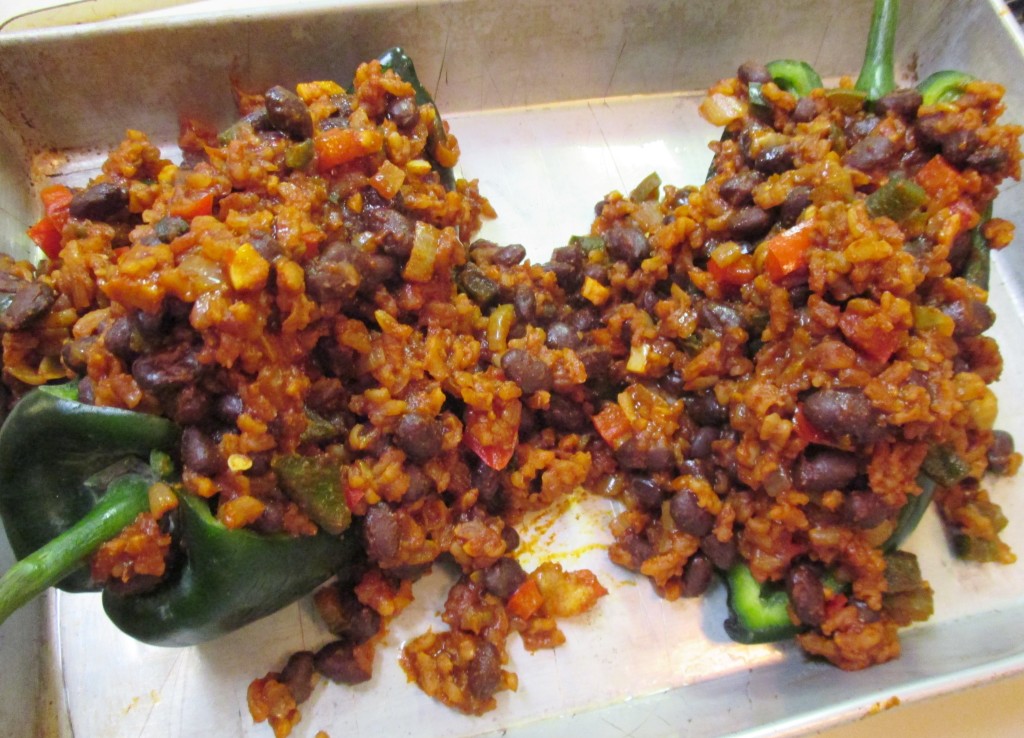 They baked in the oven for 20 minutes before they were topped with some cheese. In this case it was Munster (because that's what I had on hand), but any melting cheese would be good. I'll try Pepper Jack or Quesadilla Cheese next time. A quick pass under the broiler and they were ready to serve.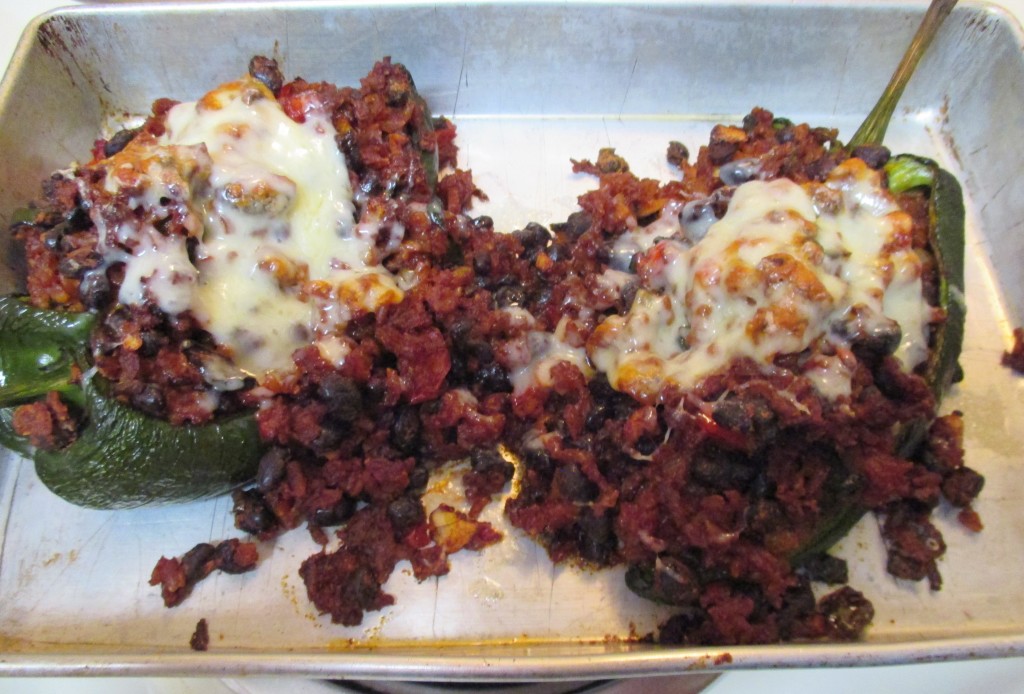 This recipe makes enough to over stuff four peppers. I only made two and used the rest of the filling for some killer "chip-less" nachos the next day. This is a great recipe to personalize. Add more veggies if you like or use quinoa, couscous, even farro for your grain. I kept this on the mild side, but you could add more jalapeno and spicier chili powder to up the heat ante. There's always hot sauce du jour that can be added at the table to bring on more heat. In my case it was Tapitio, a Mama D favorite.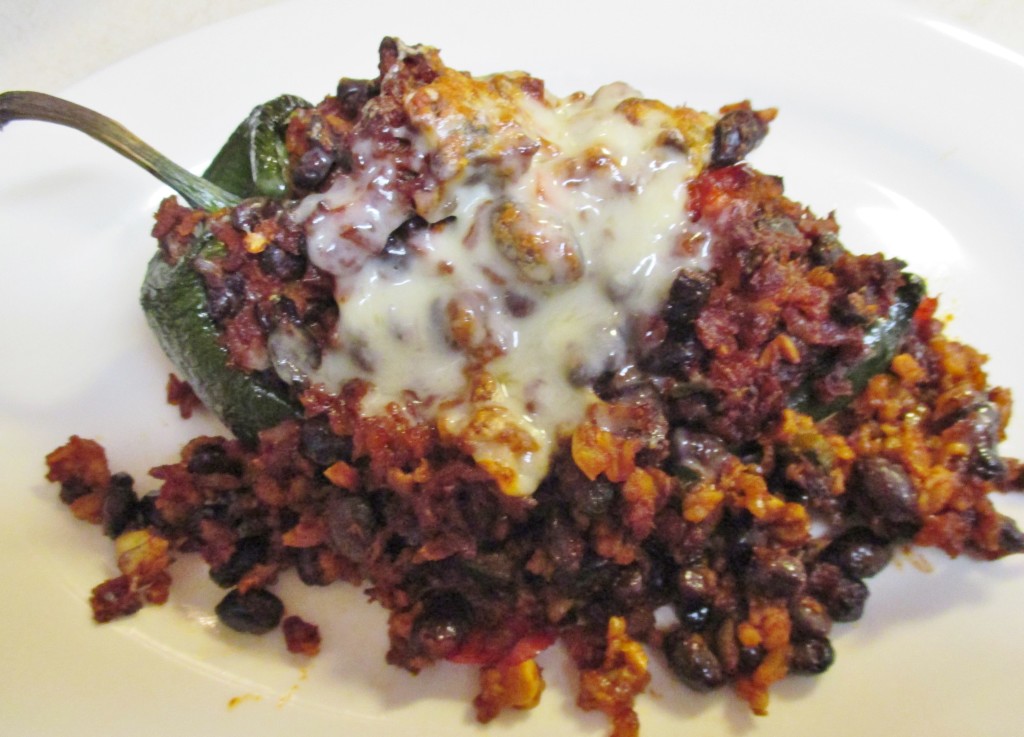 Instructions
Slice off one side of each poblano to create a boat like vessel. Chop the removed pepper pieces and add to the other peppers. Place the pepper boats in a baking pan that has been coated with cooking spray and set aside.

If you don't have cooked rice, cook 1/2 cup of brown rice in 1-1/2 cups of vegetable stock or water that is seasoned with half of each the cumin and chili powder. This should take 30 - 40 minutes. You can do this earlier in the day or even the night before.

In a large fry pan heat the olive oil. Add the chopped onions, peppers, and garlic, tossing to coat everything. Cook over medium heat until everything begins to soften.

Add the remaining cumin and chili powder and let them cook and get fragrant for a couple of minutes. Stir in the rice and toss until well combined with the vegetables. Cook a couple of minutes more.

Add the chili or tomato sauce, stirring it in well. Allow to cook a few more minutes. If the mixture seems dry add some of the vegetable stock as the mixture cooks. Stir in the drained beans and toss to combine.

Divide the filling between the pepper boats. They will be filled to overflowing which is perfectly fine. Cover loosely with foil and bake at 350 degrees for 20 - 25 minutes. The boats should be soft and the filling hot.

Remove the foil and sprinkle some of the shredded cheese on top of each pepper. Broil for 3 minutes or so until the cheese is melted and beginning to brown.

Remove from the oven and allow to rest for 5 minutes before serving. Pass your hot sauce of choice at the table.
There are probably as many variations on a stuffed pepper as there are readers of this post. Make you own version that will float your (pepper) boat. As always you are welcome to share your adventures right here. I hope that you do.