Around this time last year I posted a recipe for Halloween Hash on Mama D's Kitchen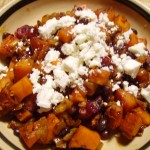 Facebook page. The dish, inspired by the colors of the season and created with what was on hand was a great meatless meal that had hints of the Southwest. I remembered it fondly and thought it would taste good on a cold October evening like the ones we've been having a little too often for my taste lately.
I pulled up the recipe and was appalled to see that it was riddled with mistakes. Olive oil was left out of the ingredient list and the amount of salad dressing as noted would carry the entire dish away (to the trash). Mistakes happen. It's a part of life, but this dish tasted so good I knew it was worth getting a second chance. Today is the day to share it with you since Halloween is upon. So here we go.        ( Check out the corrected original recipe here)
Sweet potato and black beans are the cornerstone of the dish. Mama D's Trinity: onions, garlic, and olive oil create the background structure. Chilies, this time in the shape of fresh Poblano Peppers, join Cumin and Smoked Paprika to give it a bit of Southwestern style. I opted for the sweet smokey taste of the paprika, but this would be great with Ancho or Chipotle Powder or even your favorite Chili Powder blend. Dried Cranberries got in on the act because it is Fall after all.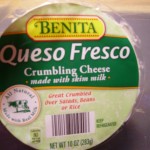 The original recipe used Queso Fresco which is an outstanding choice. Time was of the essence and I didn't have time to run to the store. I only had Herb and Garlic Goat Cheese, so that became the garnish. Any crumbling cheese or even a hard grating cheese like cheddar would be a great topper. All these changes show that Mama D can always find inspiration in a recipe  and make it her own; even if it was already hers in the first place.
This definitely fits in the supper category. It is quick, easy, and pretty healthy, feeding two to three people well. I am fortunate to have a dashing-ly handsome sous chef who prepped the vegetables for me. He opted for about 3/4 inch dice. This resulted in a chunky hash that retained the shape and texture of the veggies. The original recipe had smaller pieces, the vegetables being cut in about 1/2 inch pieces. Hash making is not an exact science, so cut your vegetables to the size that makes you happy.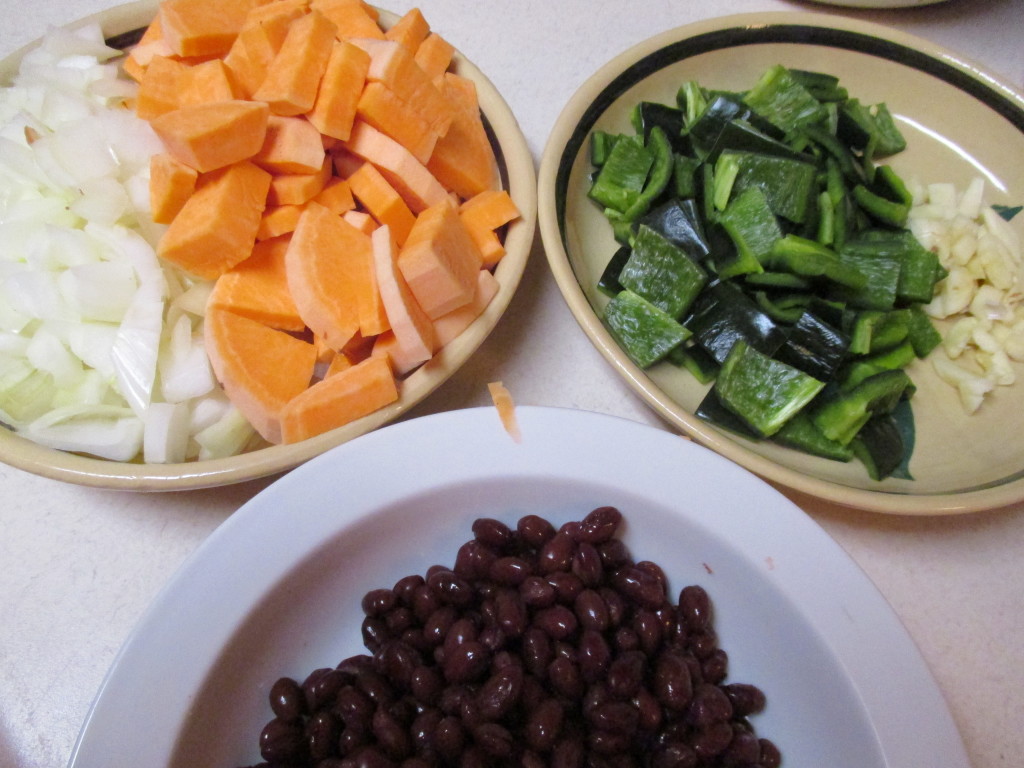 Once the oil was hot, the sweet potatoes went in and when they began to brown, I added the onion. Eventually the peppers and garlic went in along with the cumin and paprika. Everything cooked together for 15 minutes or so. I added a little chicken broth from time to time to keep the party-goers circulating. About half way through this process, I added the dried cranberries. This is a great addition if you have them, but is not a required element. I also used a little bottled salad dressing. In this case, it was a Light Chipotle Lime, but any sweet and spicy dressing will add that extra pop of flavor.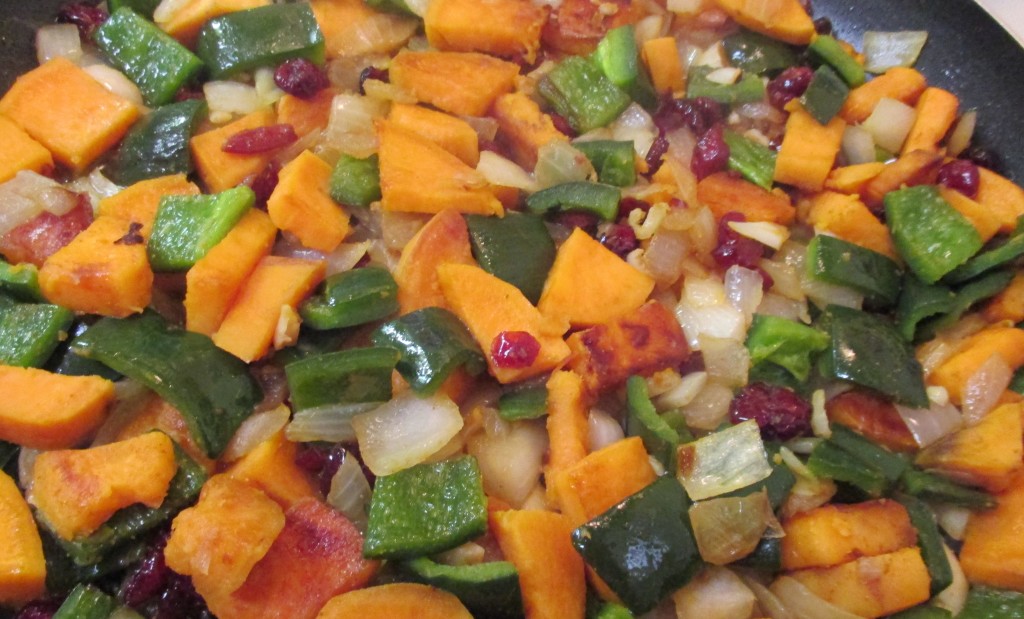 Finally the beans went in and the color splashed hash cooked for a few more minutes.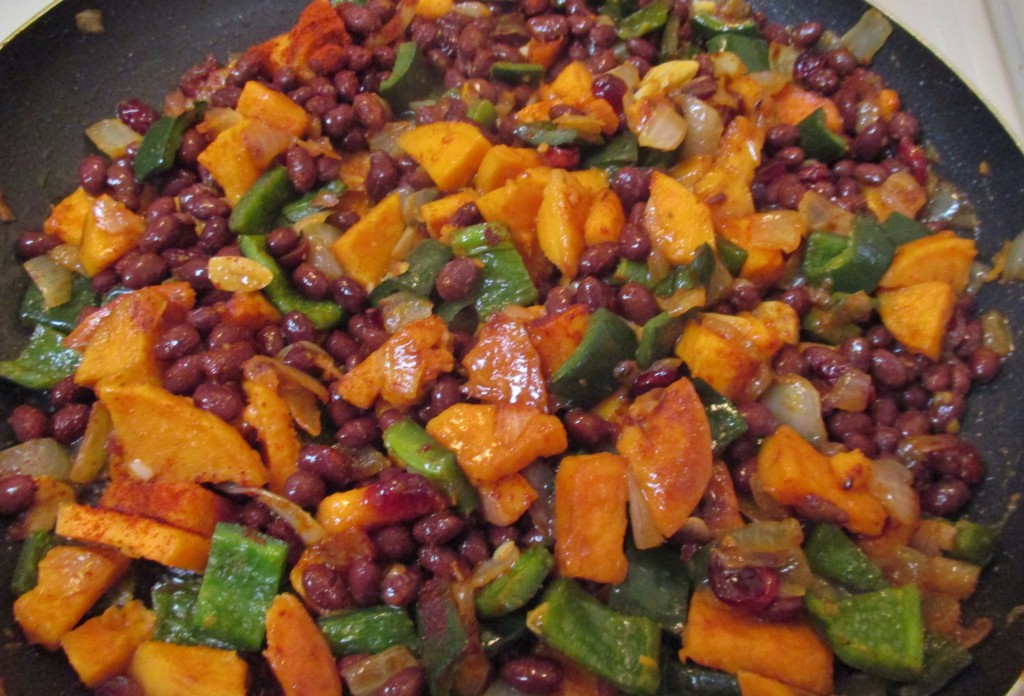 Topping the dish with goat cheese added a bit of creaminess as the cheese melted and the subtle tang was reminiscent of  Mexican Crema.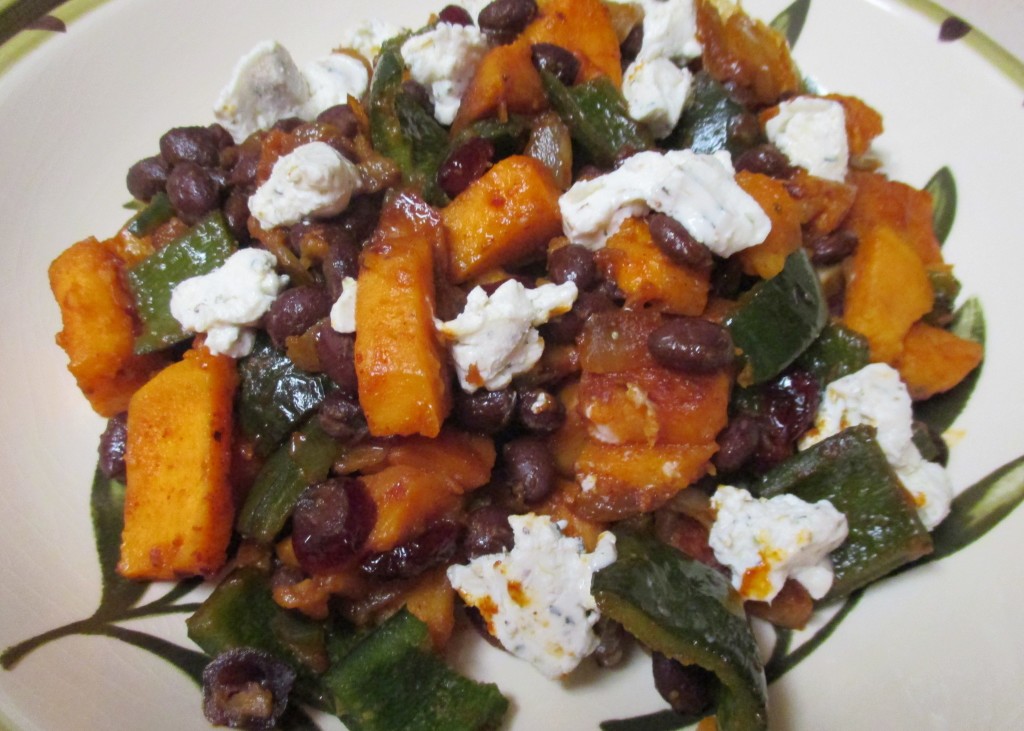 Instructions
Heat the oil in a large skillet. Add the sweet potatoes. Allow to cook undisturbed for 3 to 4 minutes.

Turn the potatoes and add the onions. Cook undisturbed for another 3 - 4 minutes. Continue to cook 5 minutes more, gently stirring occasionally.

Add the peppers, garlic, and spices and cook a few minutes. If things seem to be getting too dry, add a little chicken stock as needed.

Add the cranberries, salad dressing, and a bit more chicken stock (if needed). Cook until everything is tender and nicely browned. Stirring occassionally

Stir in the drained beans and cook until they are heated through.

Divide between two or three shallow bowls. Top with the crumbled goat cheese and serve.
The meal was perfect for a blustery night, but it would be great just about any time that you had a hankering for hash. Be daring and nestle a poached egg on top and call it brunch. Remember: If you don't like the results the first time there's always the option of a "do over," even in the Kitchen of Love.