We are already a week into the new year. I've decided that I want to challenge myself to be more mindful of the food I create this year. I know that every dish that I make doesn't need to have its own moment as the star of a post, but I thought that I would try to catalog each dish that I create with a picture and a brief description. I will admit that this is partly to help me keep track of what I make, my memory, after all, isn't getting any younger. You need have no fear of being overwhelmed with posts because I will only be sharing some of them in detail.  Bear with me this first week, I'll share several of the plates that graced our table and yes, there will be a recipe (just one) at the end.
We started the year off with what I think was a wonderful NYE dinner. Yes it was technically 2015, but I wanted to set the tone for the coming year and no it does not mean that we will eat like this on a regular basis. We had Surf, and Turf, and Turf.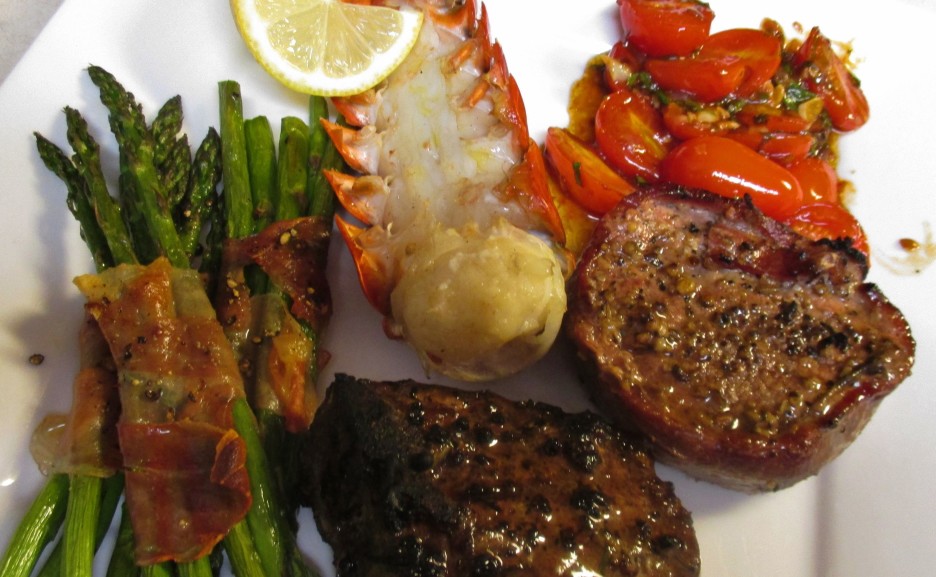 A small lobster tail, a bacon wrapped filet, and a lamb chop all were grilled to perfection by Papa D. Proscuitto wrapped asparagus and sautéed grape tomatoes completed the plate. We said goodbye to the old year with full and happy stomachs….
With the meat feast behind us we entered into the new year. Continuing on the theme of healthy vegetable forward meals, I turned 8 ounces of pork into  colorful kabobs that  were as tasty as they were healthy. Peppers, onions, yellow squash, and potatoes were marinated and grilled before they came to rest on a bed of sautéed spinach.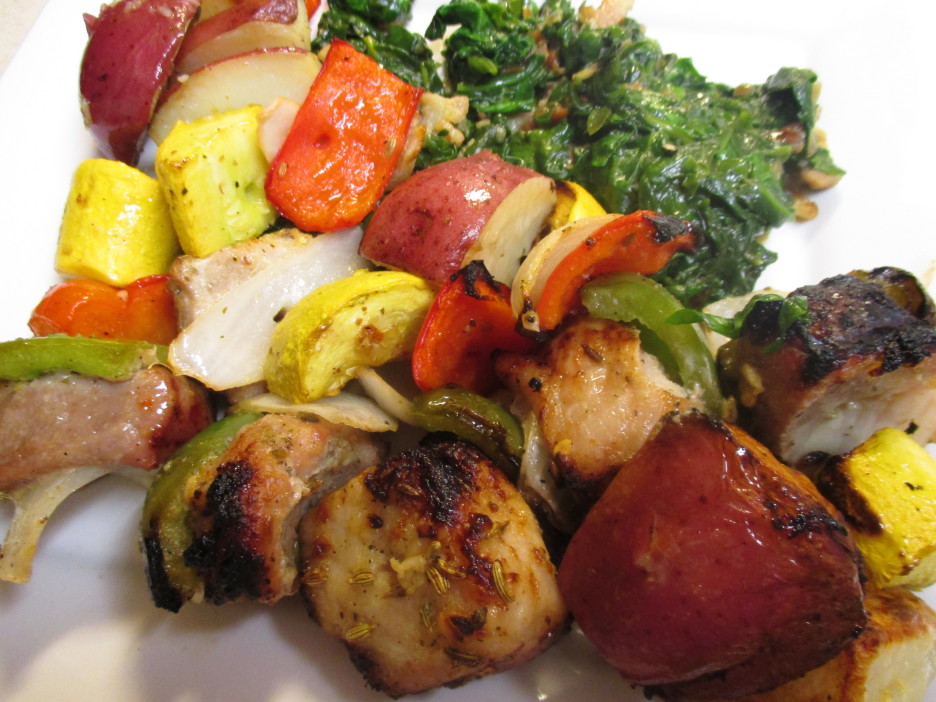 I plan to keep "Meatless Mondays" on the menu. I may even throw in a Meatless Wednesday or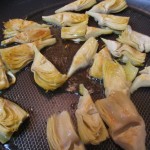 Thursday from time to time. Our first Monday Minus Meat was a pasta dish that featured Artichokes and Cannellini Beans with Whole Wheat Rotini. I started with a can of whole artichoke hearts. I prefer these because they hold together better than the quartered variety and you can cut them to the size that works for you. In this case, I quartered them (ironic, huh?) before I browned them in a skillet with olive oil. Frozen hearts are another good option, but unless you are near a Trader Joe's, you may not find them. Of course, if you can find fresh baby artichokes that would be wonderful…I didn't have any luck with that, either, but I did have the can of hearts in the pantry.
Mama D's Trinity went into the pan. This time the onions were red and the garlic was sliced. I cut all the grape tomatoes that I had in half and added them to the pan along with the drained and rinsed beans. I added a generous splash of vegetable stock to keep everything lubricated. The sauce would later be bulked up with a cup of the pasta water. I added some red pepper flakes and fresh parsley to seal the deal. Then I let it rain Pecorino Romano Cheese.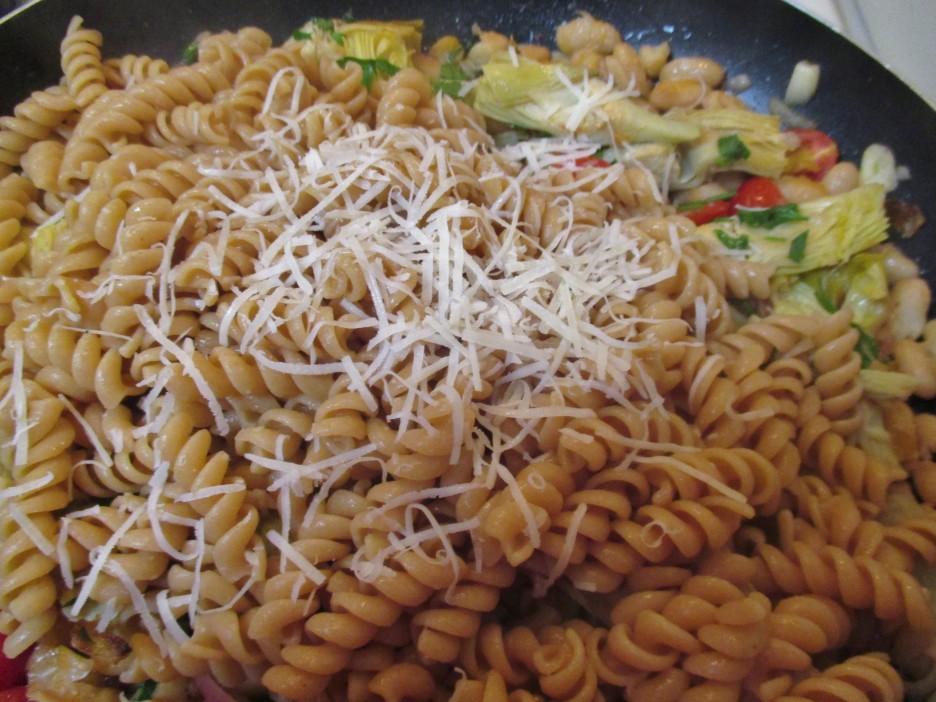 This dish will feed two lavishly with enough left over  for someone to have a nice lunch the next day.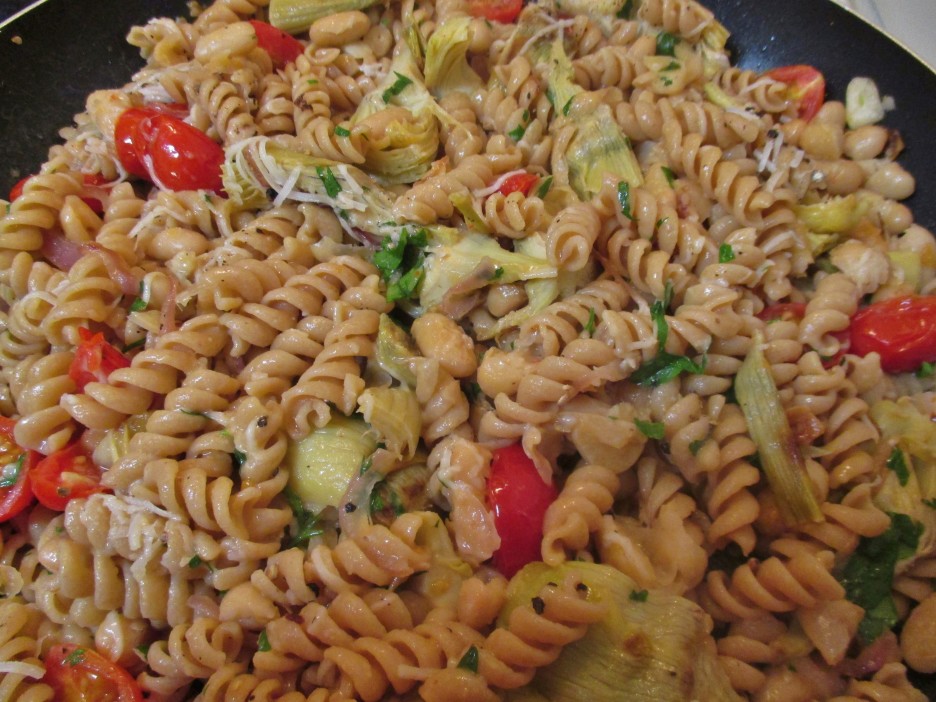 Instructions
Cook the pasta according to the package directions minus a minute or 2. While the pasta is cooking, make the sauce.

Add 1 tablespoon of the olive oil to a hot skillet. Place the artichoke hearts in a single layer in the pan. Cook until lightly brown, turning as needed, 4-5 minutes. Remove from the pan and set aside.

Add the remaining olive oil to the pan and add the onions and garlic. Cook a few minutes until they soften and smell wonderful.

Add the beans and tomatoes and toss to combine. Add the vegetable stock and cook for 4 minutes or so. If the mixture seems dry, add a little more stock.

Return the Artichokes to the skillet. When the pasta is cooked, reserve one cup of the pasta water. Drain the pasta and add to the skillet.

Add the pasta water, parsley and pepper flakes to the skillet along with the cheese. Toss everything to combine and allow to cook for another few minutes until the cheese has melted.

Serve with more cheese to add at the table.
The new year will hold many new adventures and many of them will happen in the kitchen. There will hopefully be a little travel, a lot of family time, and of course, lots of love.