It's been some time since I shared a side dish recipe. I will remedy that now with this quick, decadent, and delicious take on Cauliflower Mash. This  mash has been hanging around Mama D's Kitchen since my Low-Carb Diet phase. Back then I embraced Cauliflower as a substitute for potatoes. While my diet has become more balanced, I still watch those carbs and I often go to this side to fill out a comfort food plate.
It starts with cauliflower of course. Where it goes from there is totally up to the cook's imagination. On this particular day I was using up some leftovers from the shower we gave for the new Grand-boy to be. The broccoli and cauliflower came from the crudites platter. The cheese spread was from a cheese football ( my boys are sports obsessed and the shower theme reflected that). The recipe for this, by the way, was awesome. It came from Jeff Mauro. Click on his name to check it out. While this cheese spread gave my dish a delightful cheddar flavor, any cheese spread, homemade or otherwise will work. The only requirement is that it be cream cheese based. (Boursin, or Allouette would be great.) This is crucial to it melting into the cauliflower and creating the perfect creamy texture.
One pot of boiling water did double duty. First, I blanched some broccoli florets, shocked them and let them dry while the rest of the magic happened.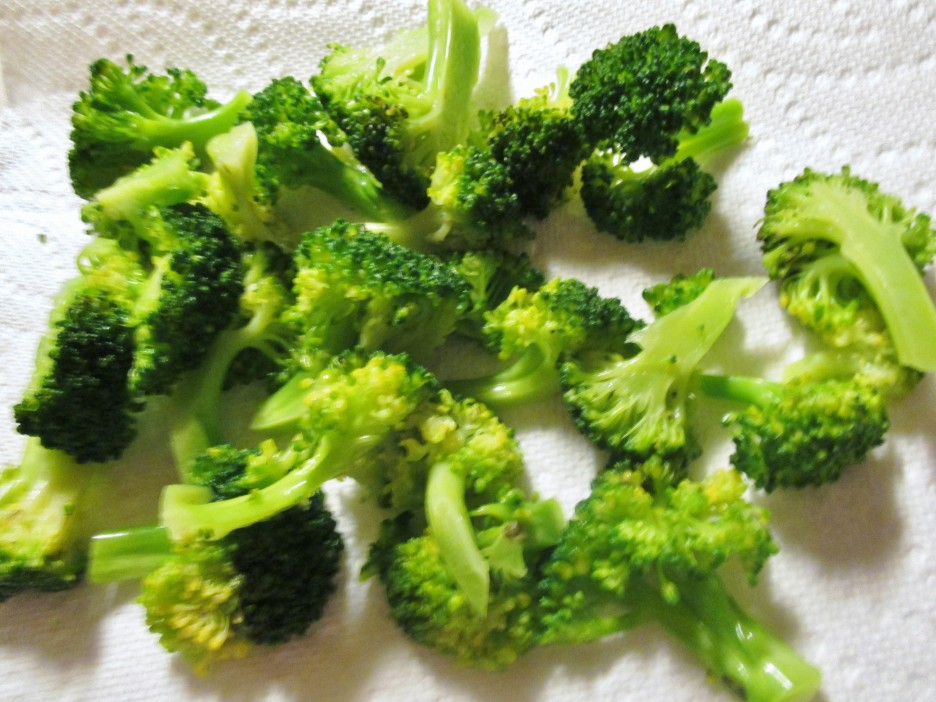 With the water still boiling I added the cauliflower that was chopped into small pieces. I like my veggies "al dente", but this is one time when a little overcooking is a good thing. Well cooked cauliflower results in smooth mash.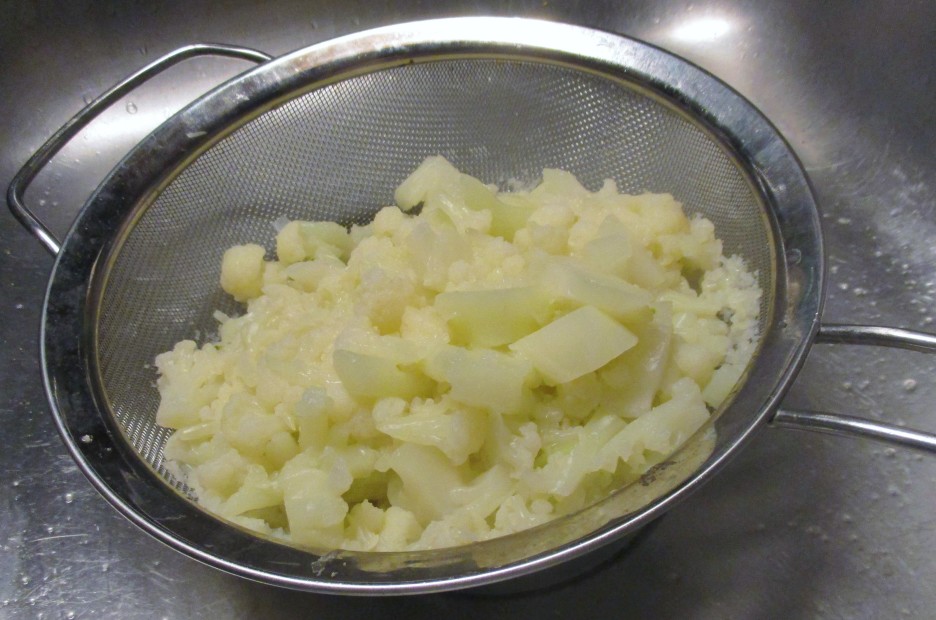 The cauliflower went back into the pan along with the cheese spread that was at room temperature. They were mashed together just like mashed potatoes would be. The ratio was perfect so no other liquid was added. If things seem too stiff add some milk, a little at a time. Take it slow because you can't take it out if you use too much.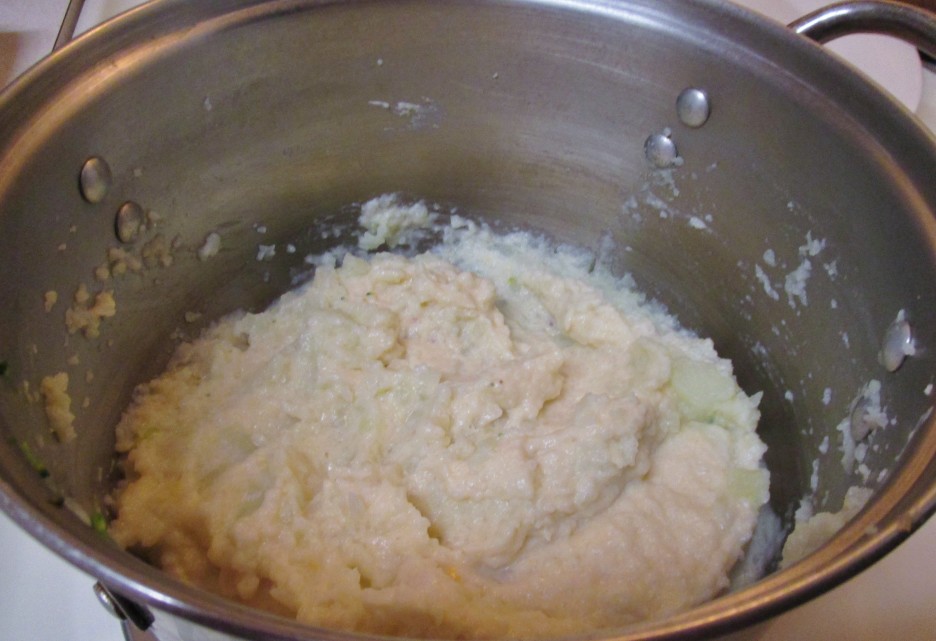 All that was left to do was fold in the broccoli and grace the dinner plate with a generous mountain of creamy goodness. Yes, that is a bacon wrapped chicken breast that is peeking out of the corner. Since I was reflecting back on those low-carb days of old, I thought that I would go for the gusto and create an entire plate of  goodness in their memory.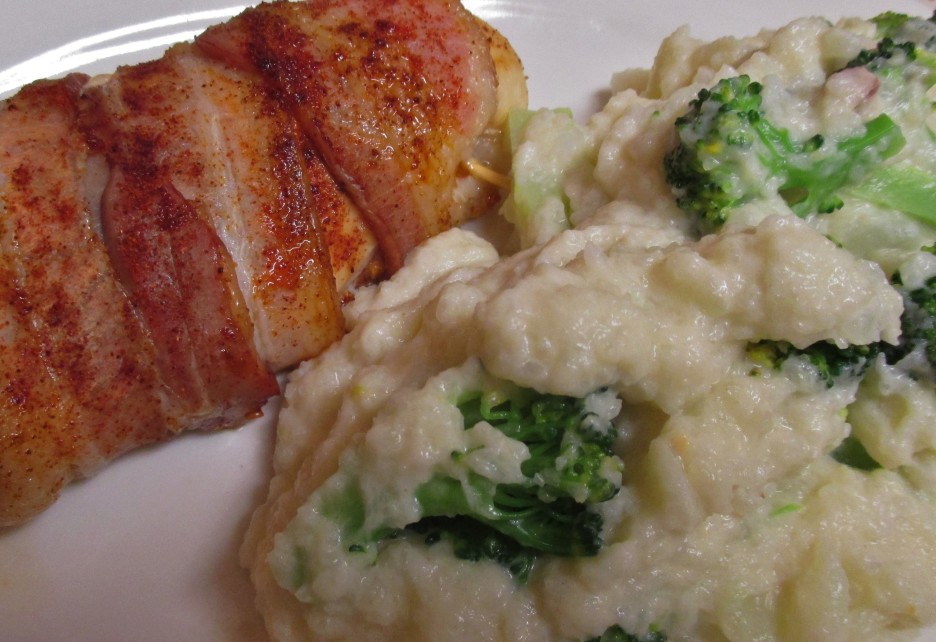 Honestly, this side would be wonderful with anything. Give this recipe a try, and by all means make it your own.
Instructions
Bring the cheese spread to room temperature while the broccoli and cauliflower cook.

Heat a large pan of water to a boil. Add a good amount of salt. Dump the broccoli florets in and blanch for 1 - 2 minutes. Immediately remove to an ice water bath. Drain well on paper towels and set aside.

Add the cauliflower to the same pan and cook until the cauliflower is very tender. This should take 15 minutes or so. You actually want to overcook it slightly...trust me.

Drain the cauliflower well and return to the pan. Add the cheese spread and mash with a potato masher. If the mixture seems too thick add a little milk and continue to mash until the mixture is almost smooth.

Fold in the broccoli. Check for seasoning and add salt and pepper if needed, (but you probably won't need to). Serve.
While we're on the subject of cauliflower, check out the Not Potato Salad and the Cauliflower Mac & Cheese recipes from the archive. these are all wonderful ways to eat your veggies.