While spring is officially here, the weather has been far from Springlike. Call it confused, call it crazy, but any day that gives you snow, sleet and rain along with a touch of sun, but temperature wise is still in the 30's is a good reason to make a comfort food casserole that warms the heart and the kitchen. While I know that things will get better (in fact, they are already) Mac & cheese has no season.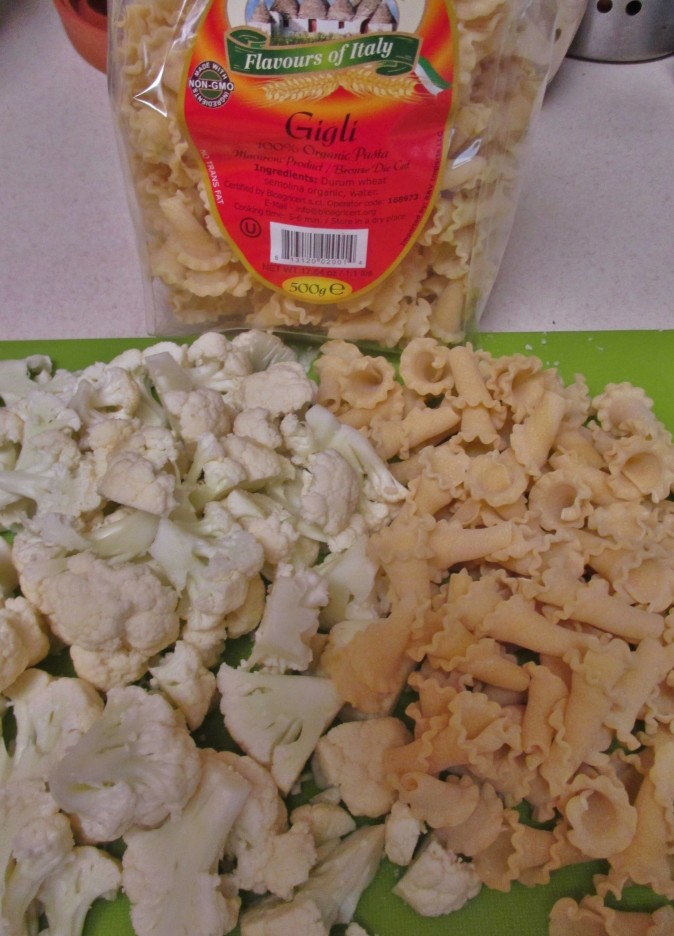 This started with equal parts of pasta and cauliflower. The "Gigli" looked a bit like the cauliflower and the combination lightened the carb load a bit. This could also be a great disguise for vegetables if that is an issue in your family. Any way, the pasta cooked to almost al dente before I added the cauliflower. I drained it all and set it aside.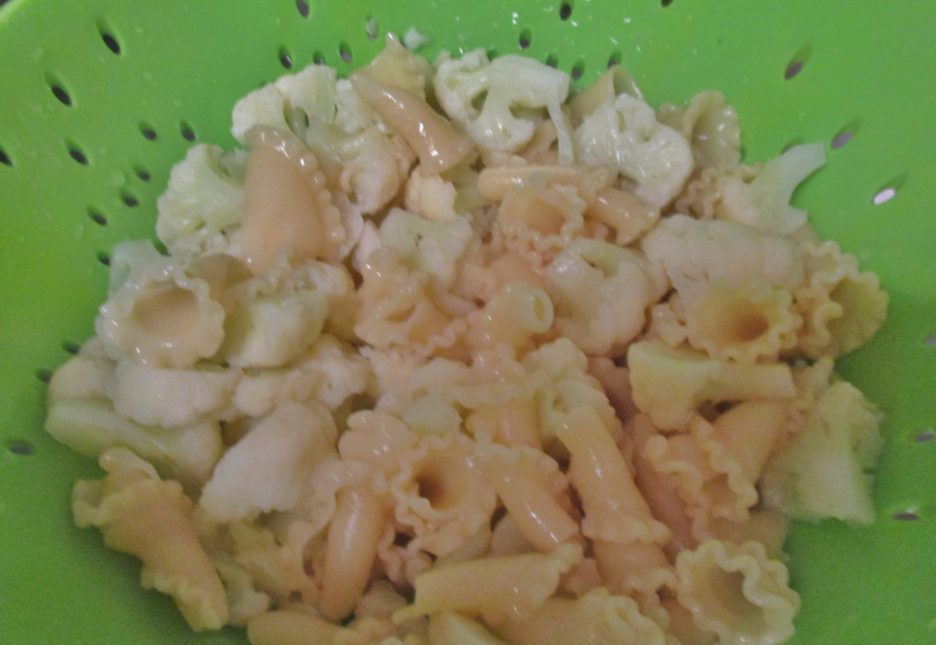 I chopped two Italian Chicken Sausage links and added them to a hot pan. (I wanted a little of that crunchy meat taste, but you could easily leave it out.)  Beautifully browned, they sat on the sidelines for a bit. Then a swirl of olive oil followed by some garlic, onion, and red bell pepper went into the pan. I let this get golden and used a bit of chicken stock to de-glaze the pan. Flour went in and a stock/oil roux came together. I used Fat Free Half and Half and more chicken stock to create the sauce.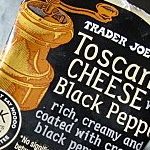 I combined equal parts of Black Pepper Toscano ( this wonderfully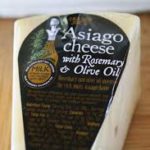 creamy Parmesan cheese has made several appearances in Mama D's recipes) and Olive Oil  Rosemary Asiago cheeses (Another Mama D favorite with just the right sharpness and plenty of rosemary kick). Both of these cheeses come from Trader Joe's, but any sharp Italian cheese would work. Emphasis on the "sharp"…a little goes a long way to create big flavor in a small package. I used about 1/2 cup shredded of each cheese and the flavor was more than satisfying.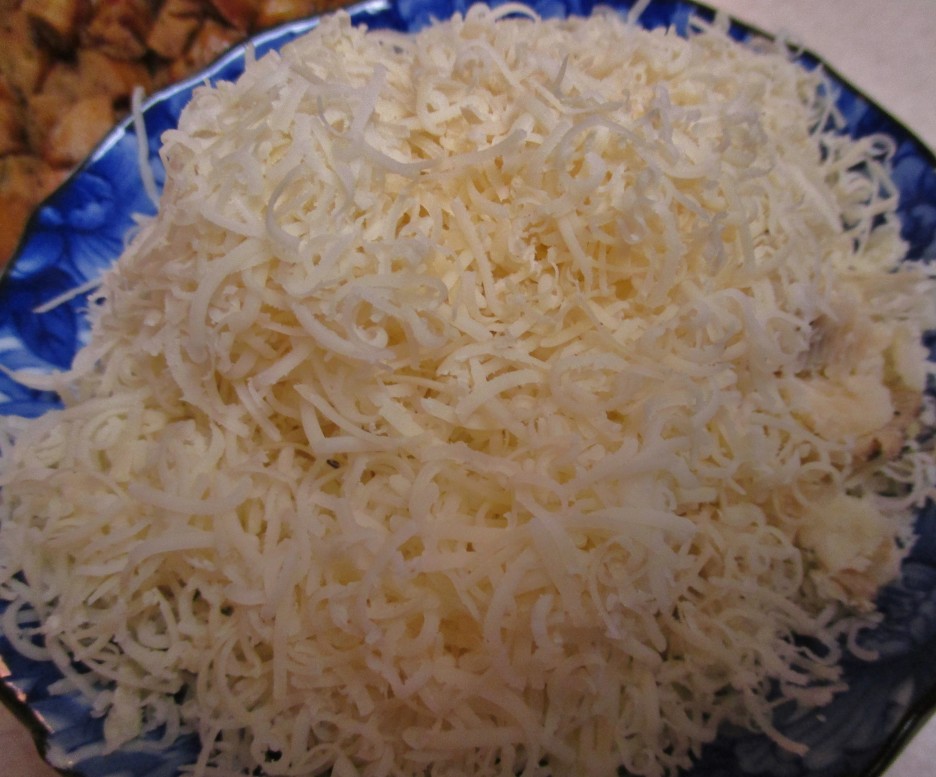 All the players came together in a baking dish.  It baked covered for about 20 minutes, then I removed the foil and added breadcrumb topping and let it bake a bit more before cranking the oven to "Broil" and letting the golden magic happen.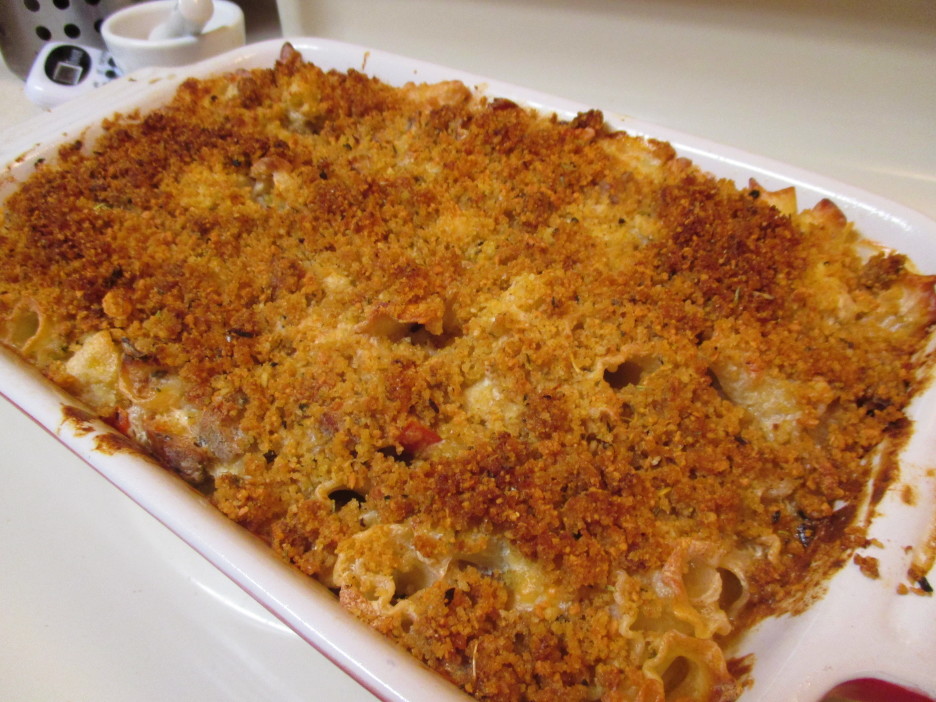 It was very pretty, but that was nothing compared to how it tasted. A few sautéed grape tomatoes were the only addition to this "enlightened" meal.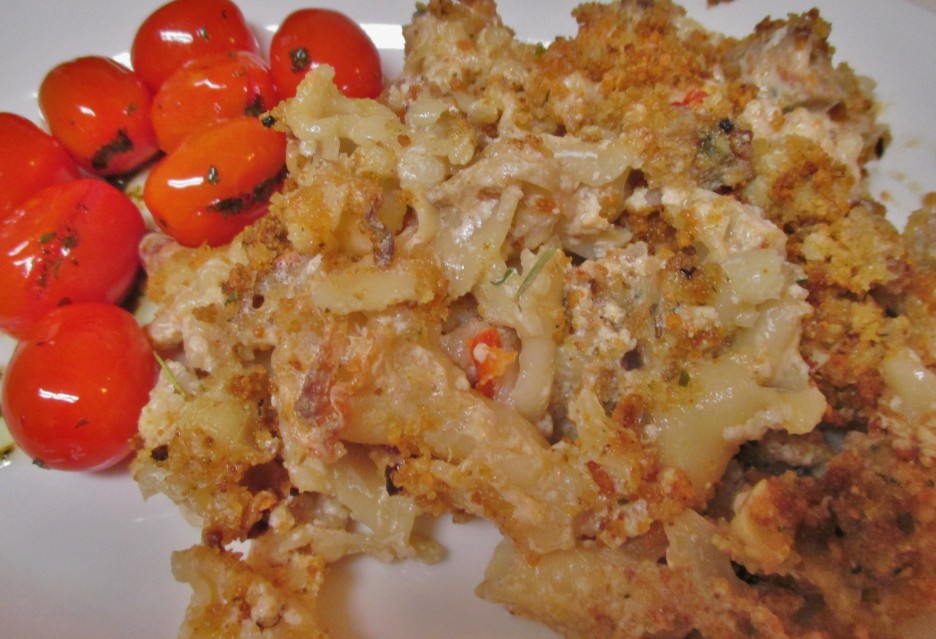 It had the creaminess of a full dairy cheese sauce, but the chicken stock lowered the fat content nicely. While it wasn't completely guilt free, it was darn close. This could easily serve six people, but in reality it is more like four servings, but even at that it still won't totally break the fat and calorie bank.
Instructions
Cook pasta in boiling salted water until not quite "al dente". Add the cauliflower and bring back to a boil. Drain and rinse, then set aside.

Heat a large saucepan over medium heat. Coat lightly with cooking spray and add the sausage. Cook the sausage until it is golden brown, stirring frequently. Remove the sausage from the pan and set it aside.

Add the olive oil to the pan. Add the onion, garlic, and bell pepper. Cook stirring often until everything is soft and fragrant. Add 1/4 cup of the chicken stock to the pan. Stir to loosen any brown bits. Add the flour and cook and stir for 2 minutes.

Add the remaining stock stirring until smooth. Stir in Half & Half and cook until the mixture thickens and is bubbly. Remove the pan from the heat and add in the grated cheese, stirring until it melts.

Coat a rectangular baking dish with cooking spray. Combine the pasta, cauliflower, sausage, and cheese sauce in the pan. cover the pan with foil and bake for 30 minutes at 350 degrees.

Combine the melted butter, bread crumbs, and Parmesan. Remove the foil and top the casserole with the crumb mixture. Return to the oven for another 10 minutes. Turn oven to broil and allow the topping to brown.

Remove from the oven and allow to rest for 10 minutes before serving.
As I get ready to post this, it feels like Spring is truly here. Let's hope that it plans on staying for awhile.