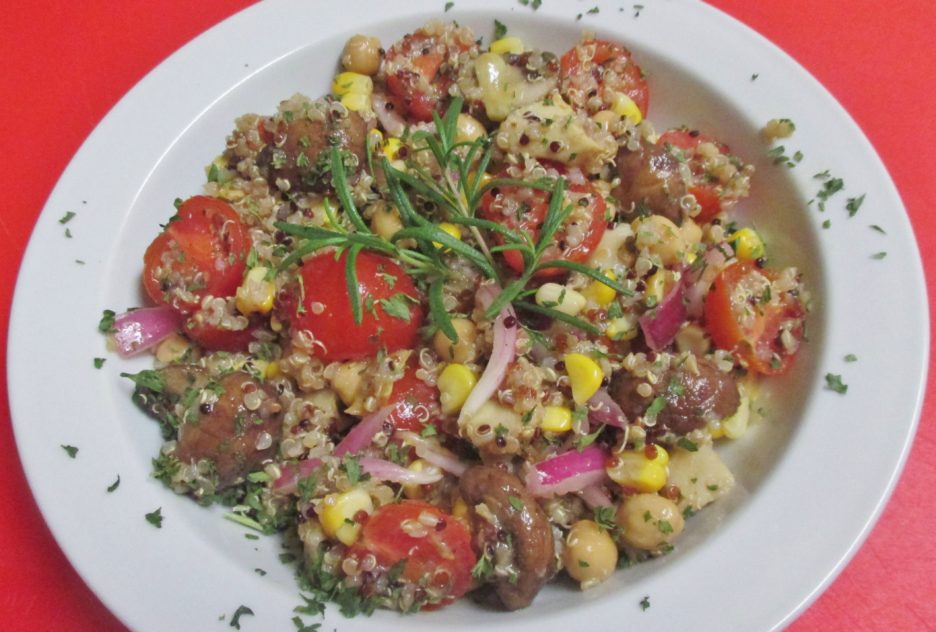 Quinoa is a favorite of many with good reason. It's a grain (actually a seed) that is loaded with protein and is gluten-free. It is easy to prepare and is the perfect blank canvas for many creative additions.
I love it in a salad because it can stand up to big tastes like the ones in this recipe. There is an explosion of tastes and textures, yet there is also a pleasant balance of flavors. Grilling the corn and mushrooms gave them both a flavor boost. The chewiness of the mushrooms gave the dish a "meaty" feel and the tomatoes and onions gave it just the right amount of crunch. Quinoa is innately toothsome and was a perfect counterbalance.
I opted for a vinaigrette liberally laced with lemon and rosemary and a big hint of garlic to keep with the Mediterranean theme. You could use another bean, maybe cannellini if you were so inclined. The addition of a little cheese, perhaps feta, wouldn't be a sin either. As with all of my recipes, I want you to make it your own.
This would make a wonderful side dish at a cookout, but it would be equally at home starring as they main attraction.

Cook the quinoa in the vegetable stock according to the package directions adding the lemon peel, crushed garlic, and rosemary sprig at the beginning of cooking. Once it is cooked, remove the garlic, lemon, and rosemary as well as any un-absorbed broth and transfer into a large bowl.

Trim the stems on the mushrooms. Cut any very large ones in half. Toss with the olive oil and grill in a basket over medium heat until lightly browned. Add to the bowl of quinoa.

Spray the ears of corn lightly with cooking spray and grill over medium heat until lightly charred on all sides. Allow to cool slightly. Cut the kernels off the cob and add them to the quinoa bowl.

Drain the artichoke hearts well and roughly chop them before adding them to the bowl along with the red onions and garbanzo beans.

Cut the tomatoes in half and add them to the bowl

Toss the ingredients together gently. Add the dressing and toss once more. Refrigerate for at least 4 hours. Serve.
Combine the dressing ingredients in a small food processor. Blend until the dressing is smooth. There will be small flecks of rosemary...that is a good thing.