There's been a natural progression in my posts lately. The Vegetable Stock led to Minestrone and now the Minestrone has resulted in the need to revisit Garbanzo Beans. I made a large batch of beans and I was bound and determined to use them all. Mama D owed it to herself to be frugal and creative. So the fiber rich adventure continues.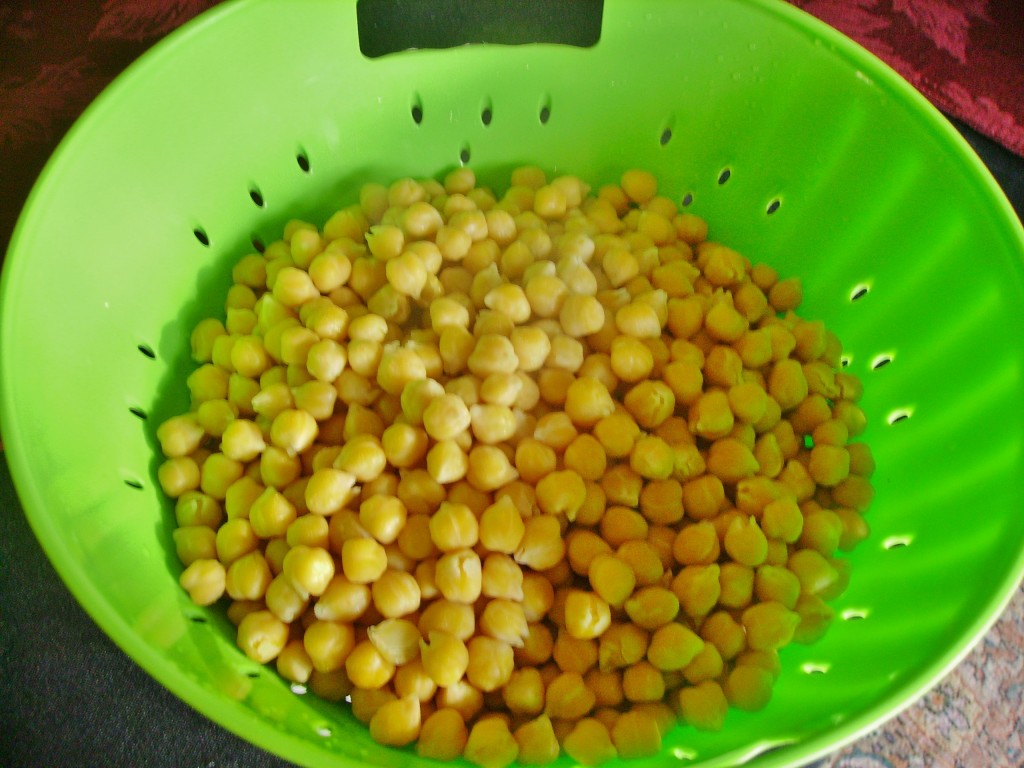 The article from Fine Cooking Magazine featured a number of recipes. The pasta recipe inspired me to come up with my own pasta and chickpeas dish.
I love bacon. I love it on its own and in the company of other ingredients. Lately my favorite is thick cut pepper bacon. I've been using it in many savory recipes. There are all kinds of dishes that benefit from this peppery pork product and pasta is a great canvas.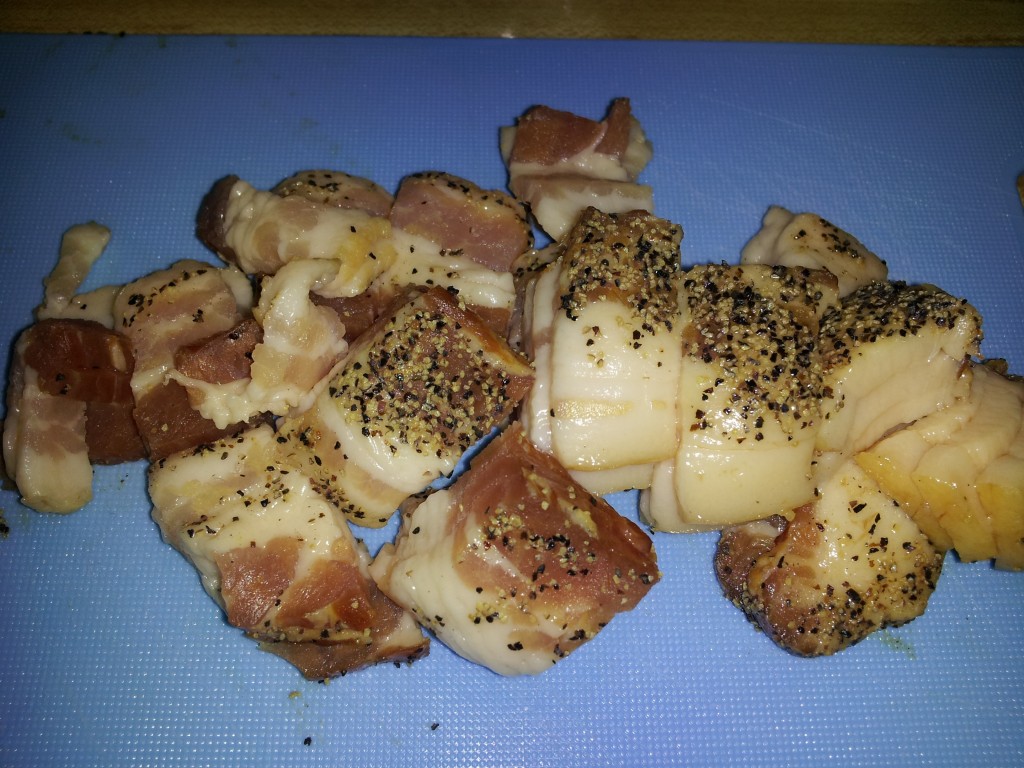 The magazine article used the liquid that the garbanzos were cooked in and I had saved my cooking water, so I used it too. A word about the cooking water. It was gelatinous and a lovely amber color. Quite different from the slightly slimy water in the canned variety. So this liquid would be the base of my pasta sauce. Onions and garlic had to join in the fun along with some red pepper flakes and spinach. Penne pasta seemed like the perfect partner with its ridges to hold what was sure to be a tasty sauce and a size that was geometrically complimentary  to the chickpeas. So, here's Mama D's newest pasta creation.
Instructions
Heat the olive oil in a large fry pan, Add the bacon and cook until it is lightly browned. Remove all but 1 tablespoon of the drippings, then add the onion, red pepper flakes, and garlic. Cook over medium heat until onions begin to soften and the garlic is fragrant. Add the chickpeas and continue to cook, stirring occasionally until they begin to pick up some color,about 5 minutes Add the spinach and cook until it wilts 3 minutes or so.

Add the chickpea cooking water and raise the heat to medium high. Simmer for 5 -7 minutes. The sauce should thicken and reduce slightly. Bring the heat back down to medium and add half of the Romano cheese and stir until it melts.
I had more chickpeas left and wanting to waste not, there was one more recipe to try, Hummus. Hummus is so versatile. We all know it as a party appetizer, but it is also great as a sandwich spread instead of mayonaise or as my friend Dave suggested, on your morning bagel. The basic recipe uses chickpeas, tahini which is sesame paste, and olive oil. There is usually lemon and garlic in the mix as well. Herbs, spices and any other additions that tickle the cooks fancy are welcome to the party.  For this go around, I opted for Cumin, Smoked Paprika, and Chipotle Tabasco Sauce.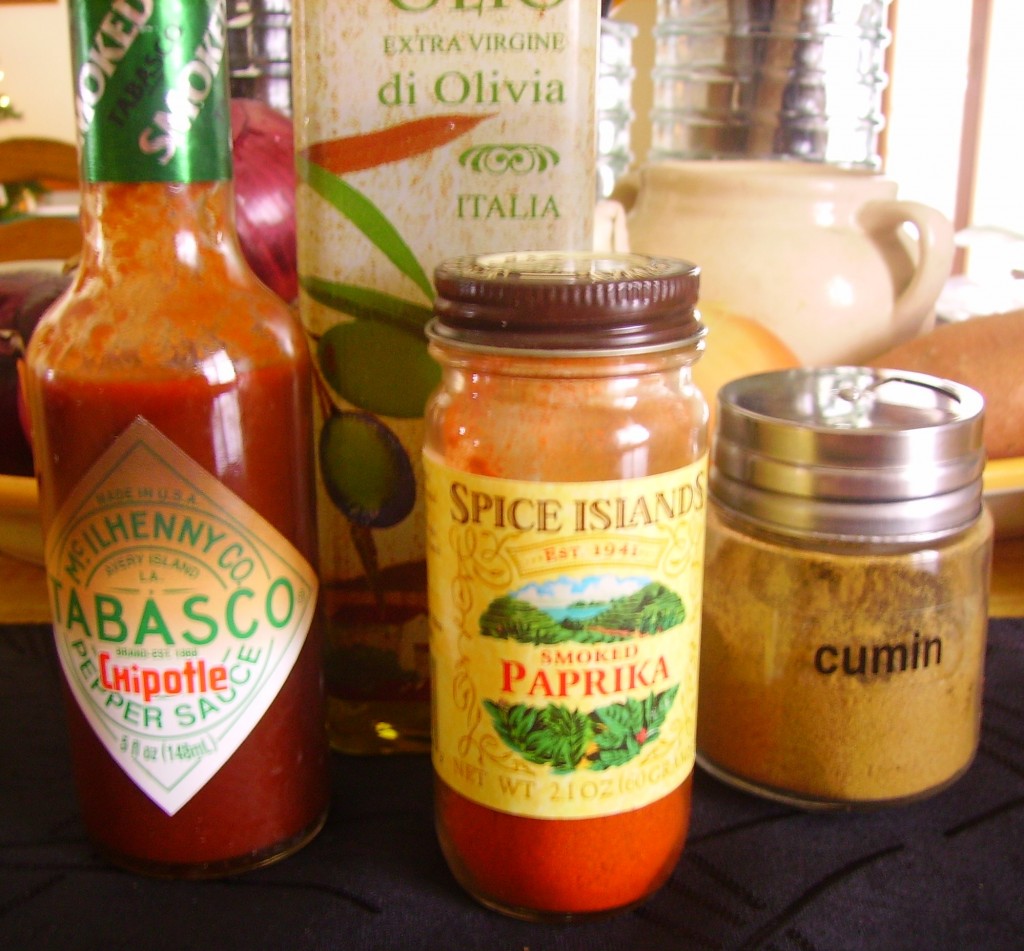 Instructions
Place the chickpeas, garlic, lemon juice, water, tahini, and olive oil in the bowl of the processor. Pulse until everything is combined, then process steadily until the hummus is as smooth as you like.

Add the measured amounts of cumin, smoked paprika, and chipotle sauce. Process long enough for the spices to be incorporated. Taste and add salt and pepper to your taste. Process again. Taste and add more of the seasonings to you preference.
The garbanzo beans, having provided several delicious meals, are gone. They will not be forgotten. They will grace the stove in Mama D's Kitchen, again soon. They really are a pot of golden love.