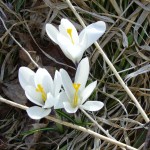 Here in the Midwest, early Spring is a time for taking special joy in a crocus or daffodil peeking out from the slowly thawing earth. It's a time for thinking about what flowers, herbs and vegetables will grace the garden. Farmer's Markets haven't started yet since the local farmers would be hard pressed to have anything to sell. Even the grocery store has limited choices. Fruit from Chile, vegetables from Mexico and the end of hard shell squash leave little to stir up inspiration. Only asparagus and artichokes hint that Spring is coming.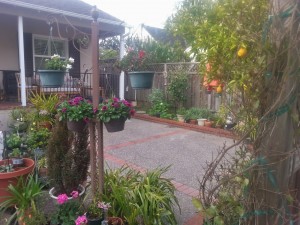 Other parts of the country experience Spring differently. Take Northern California for example. There are always flowers blooming. Iris, poppies, jasmine and roses grace front and back yards. Walking around the neighborhoods, you smell the subtle fragrance of the sweet greenness that is Bay Area Spring.
Farmer's Markets are always going on. The moderate climate (yes, I chose to leave) allows markets to occur year around. While they have a more limited selection (for them) at this time of year, the choices were mind-boggling to my Midwestern sensibilities. 
Rainbow chard that really looked the part.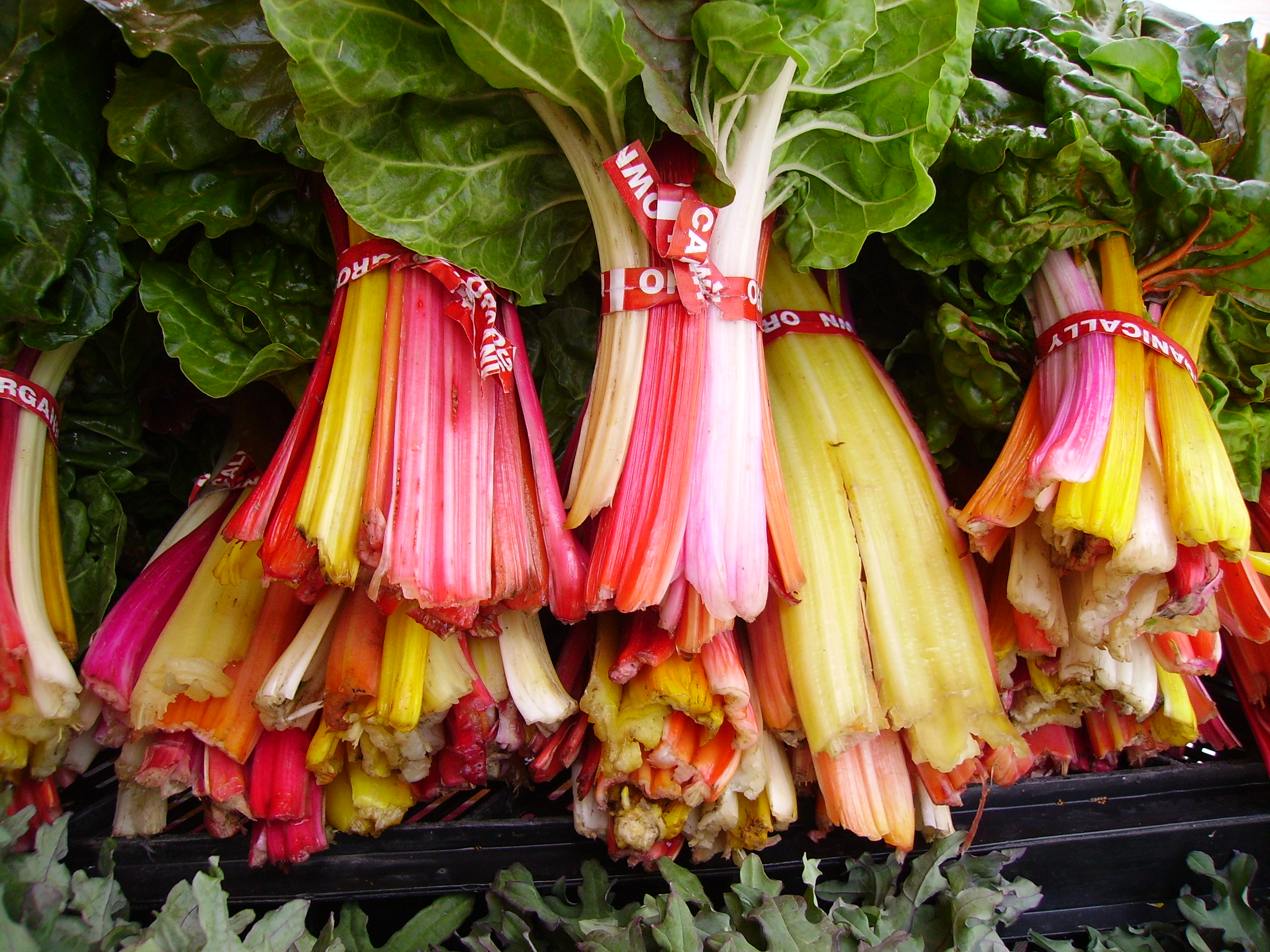 Strawberries that were plump and red and full of flavor.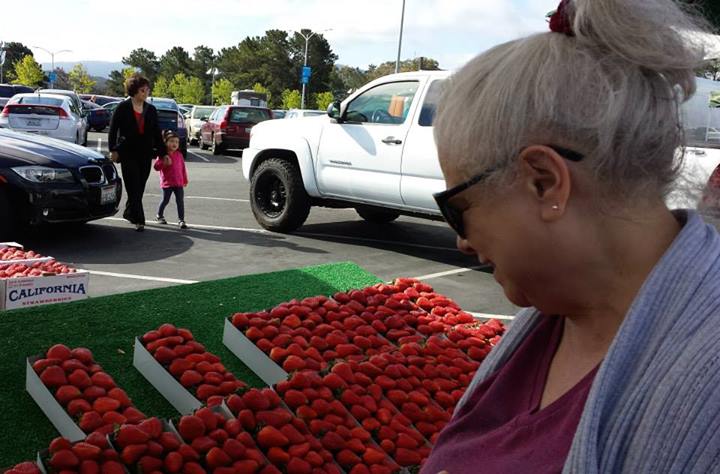 Then there were the mushrooms… I couldn't begin to identify half of them, but boy, were they pretty.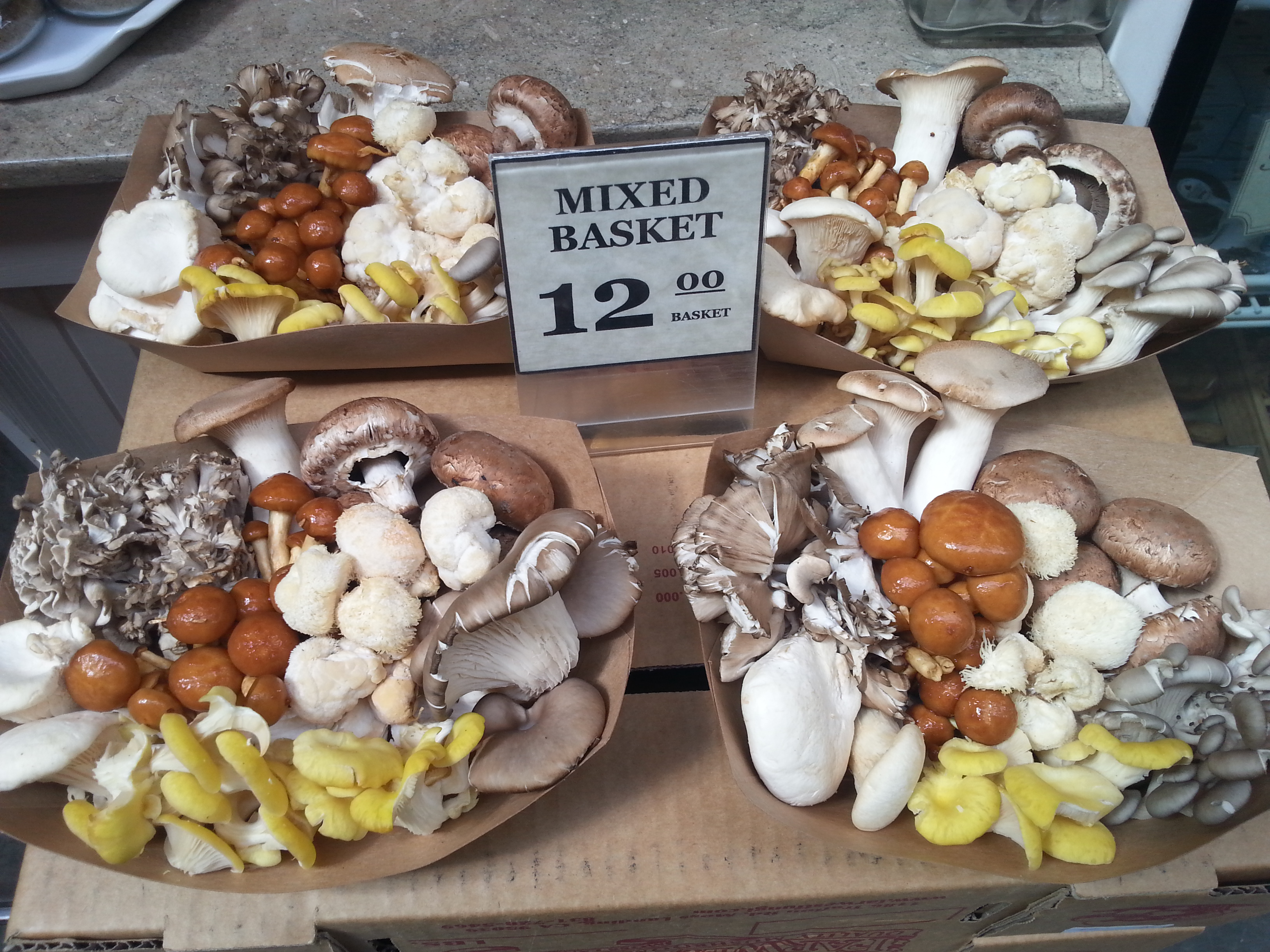 While the Ferry Building Farmer's Market (inside and outside) was a visual banquet, the Market held at  College of San Mateo though less fancy, was still inspiring. We went to buy fresh fruits and vegetables for a Mama D prepared dinner and we had plenty of choices.
Imagine being able to choose the size of asparagus you want. This particular vendor had small, medium, and elephantine. For our purposes, we chose the medium. Big enough to grill but still turn out tender crisp.
The fresh picked artichokes also had small, medium, and mammoth representatives. We opted for the small size as they would be the best on the grill. Grill worthiness determined the bundles of Baby Bok Choy as well.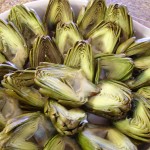 Once we got our bounty home, we cleaned and prepped them. The artichokes were cut in half and par-cooked in the microwave using Mama D's Artichoke Recipe. Artichokes require a good bit of cooking to be tender and succulent especially if there is a grill in their future. This also allowed me to remove the choke before putting them on the grill. Their garlic, lemon, and olive oil precooking bath gave them some seasoning so all they needed was a brush of olive oil before they finished cooking on the grill.
The Artichokes were joined on the grill by the Bok Choy, Asparagus and some wonderful Chicken Sausage from Trader Joe's. The Bok Choy jumped on the fire with a brush of olive oil and some salt and pepper. You could marinate them if you are so inclined. I always marinate my asparagus before I put it on the grill. It's a blend of olive oil, lemon and balsamic that would be delightful on the Bok Choy or any vegetable you are putting on the grill.  From asparagus to zucchini, a little marinating and a little grill love make them beautiful, tasty, and healthy.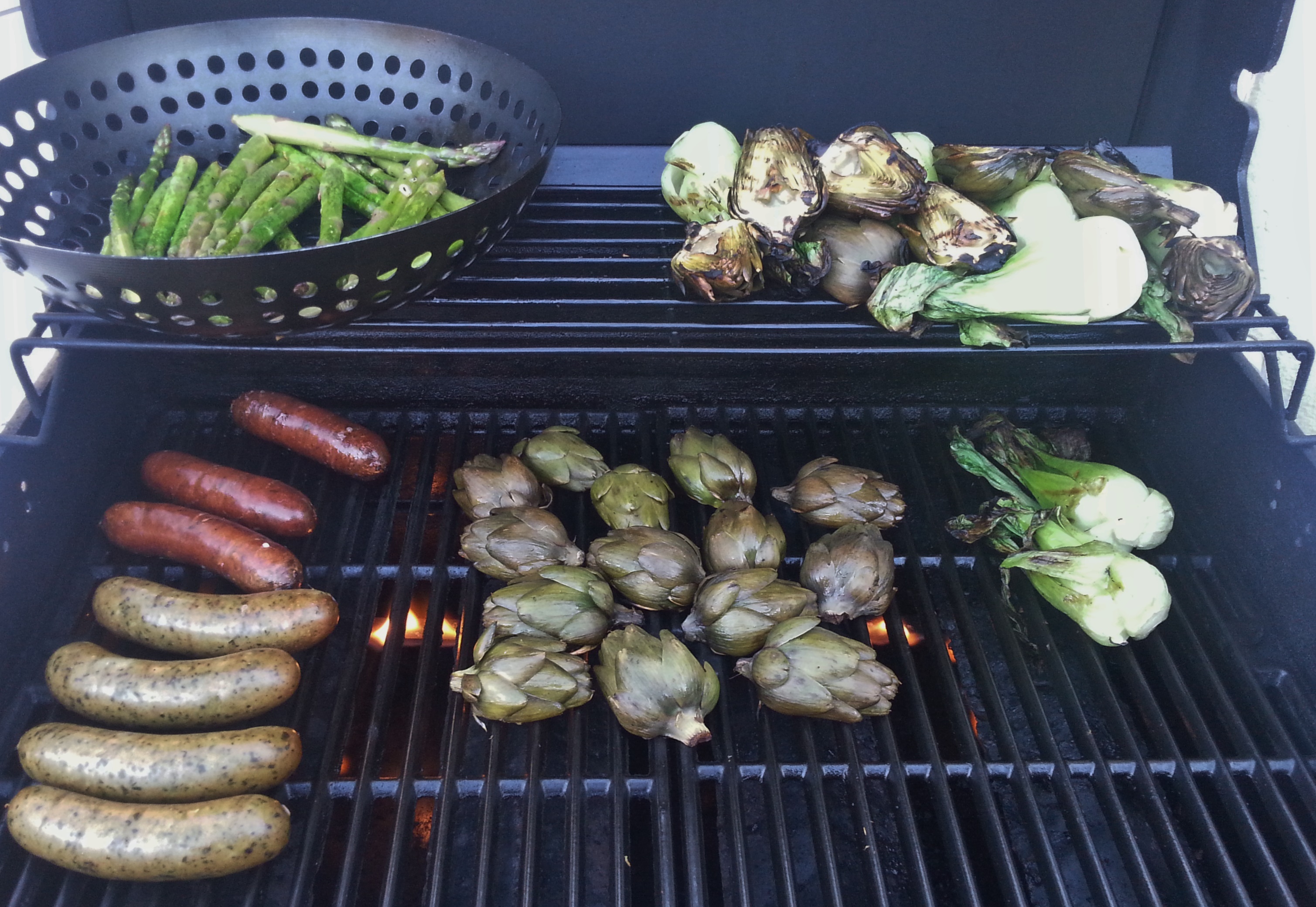 One caution…Bring your wine or whatever you're drinking out to the grill with you. The oil anointed veggies can go up in flames in a heartbeat.
Instructions
Combine all of the ingredients in a jar with a tight fitting lid. Shake vigorously until well blended.

Place cleaned and trimmed vegetables in a zip top bag. Pour the marinade into the bag and seal completely. Marinate for at least 4 hour or overnight. Turn the bag several times to distribute the marinade evenly.

When ready to grill, remove the veggies from the marinade shaking off the excess. Large vegetables can go directly on the grill. Asparagus and other slender items should go on a grill rack or wok. Save the marinade.

Grill until tender crisp, basting occasionally with the reserved marinade. Cooking time will vary with the vegetable.

Remove the grilled vegetables to a large platter. Drizzle with a little more of the marinade and/or a Balsamic reduction. Serve.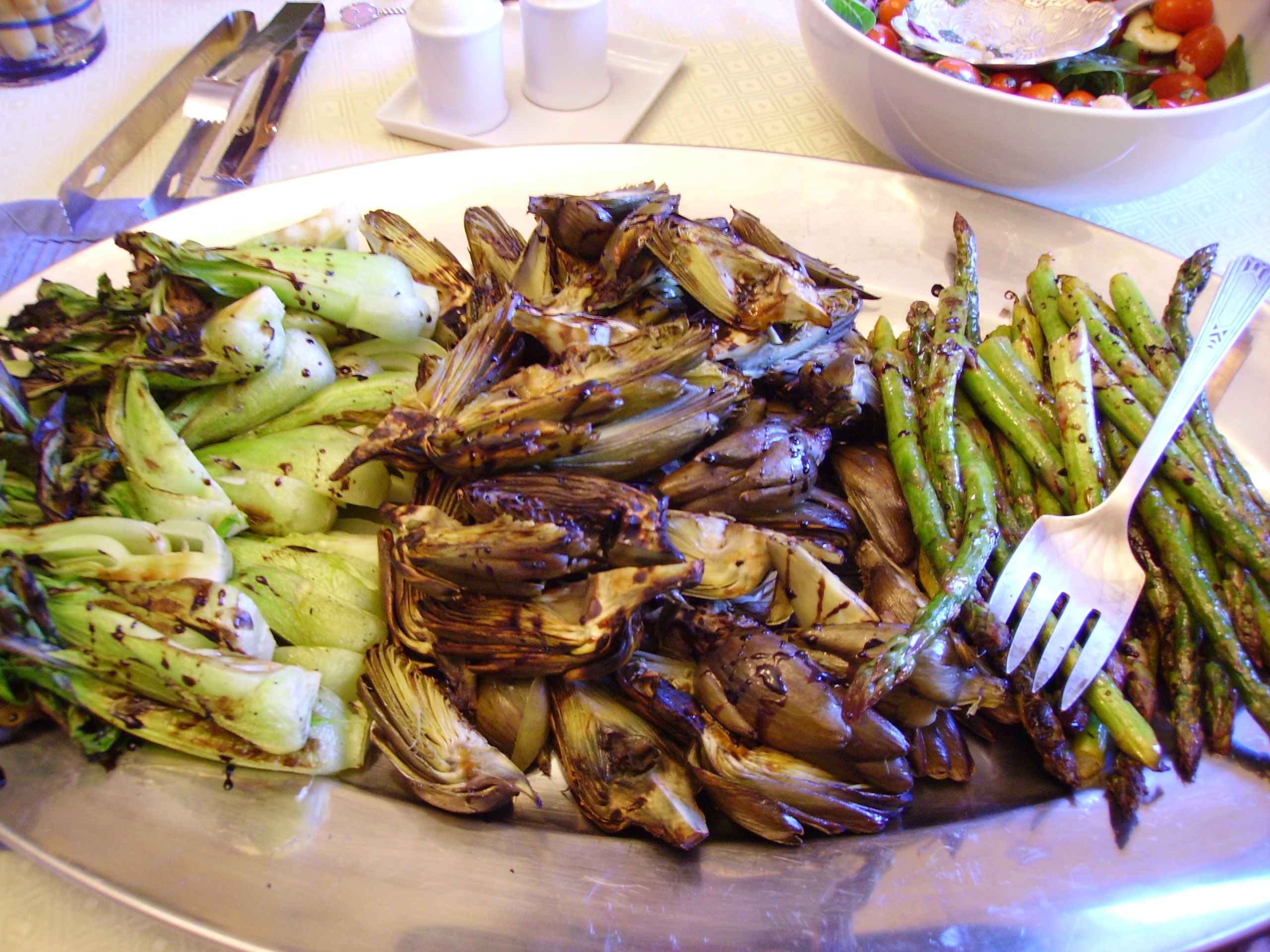 A drizzle of Balsamic Reduction was the perfect crowning touch.
I've got more California adventures to share. They'll be appearing here, as well as on Pinterest and Face Book . I have to thank my wonderful friends who opened their homes and kitchens to me. Time spent with good friends in a beautiful setting with delicious food and more than a little wine is possibly the best way to spend a vacation. Thank you one and all.                            Love, Mama D