Bruschetta is a wonderful dish. Born in Italy it has taken over this country like wildfire or should I say grill-fire since the bread is traditionally toasted over a flame. The original recipe is the essence of delicious simplicity.  Hearty, maybe slightly stale bread rubbed with a garlic clove and drizzled with olive oil and lightly charred over a fire. Simply topped with tomato it is the epitome of deliciousness. As with any wonderfully straightforward dish the ideas for variations come quickly and without reservation.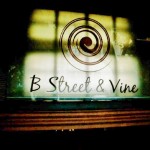 The charred bread base is the perfect canvas for culinary creativity. I dined at a restaurant on my visit to Northern California that has made a successful business of serving Bruschetta as their main attraction. B Street and Vine is a small restaurant in downtown San Mateo. The menu is simple, some soups, salads and paninis, but the star(s) of the show are 14 kinds of Bruschetta that also grace the menu. It's what most people come for and it is worth the visit. That's why we came and we ordered all 14 of them. A good time was had by all.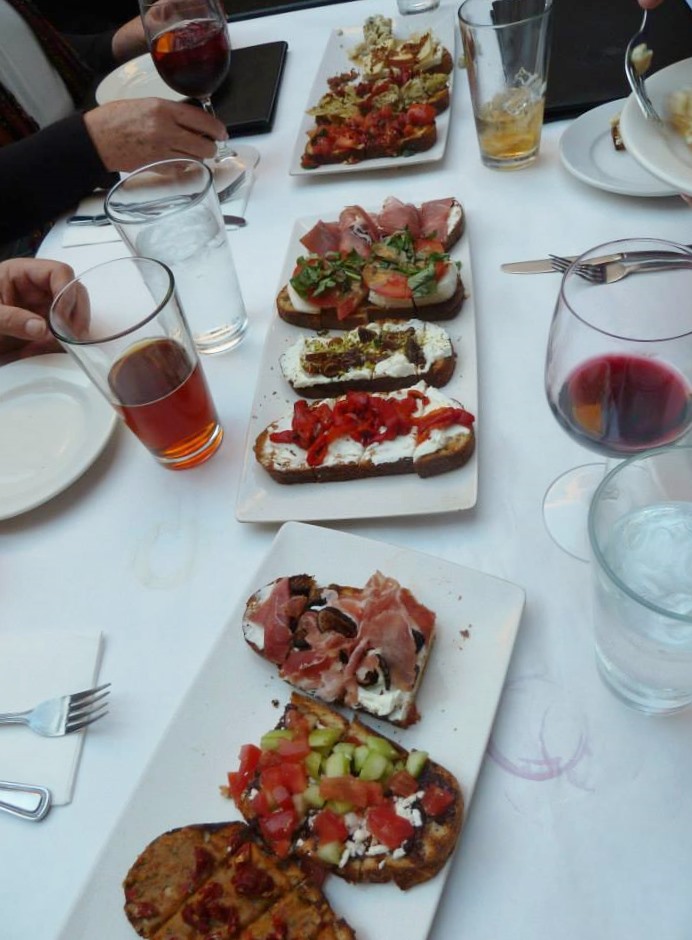 I've been playing with Bruschetta recipes for quite some time. I have to say I'm a tomato based fan, but I've dabbled in other toppings and have served a Bruschetta Bar on many occasions. It's exactly what it sounds like. A big basket of beautifully charred bread and an array of toppings. Homemade ricotta, olive tapinade, and roasted pepper salsa are just a few items that can shine on a slice of bread. Better yet add sweet or savory toppings of your choice and combine them to create an infinite variety.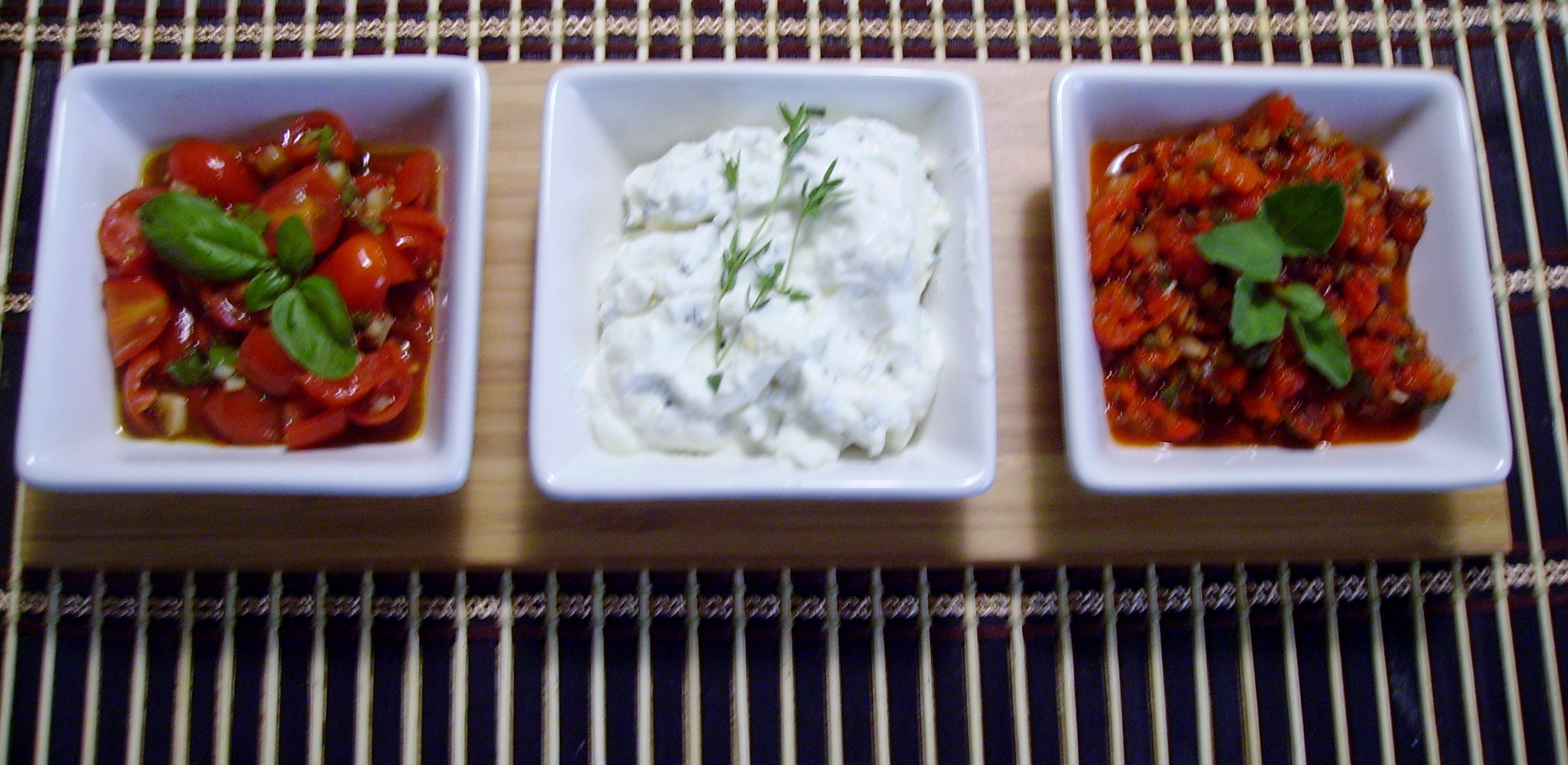 I have two favorite recipes for Bruschetta, one fairly traditional and one not so much. They both however feature tomatoes.
Mini Gourmet tomatoes are popping up everywhere.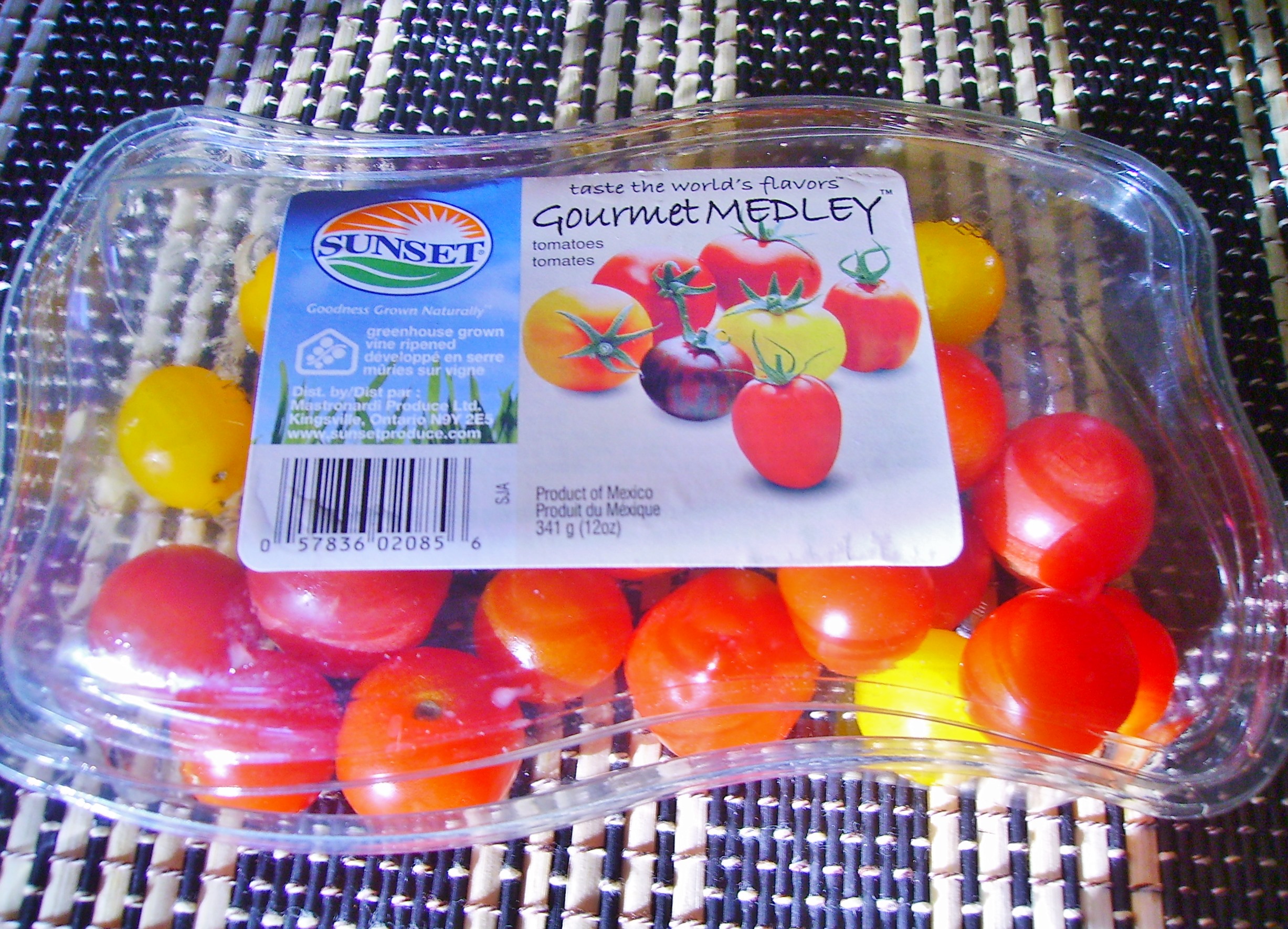 You can get them at almost any grocery store, and Trader Joe's often has containers of mini Heirloom tomatoes.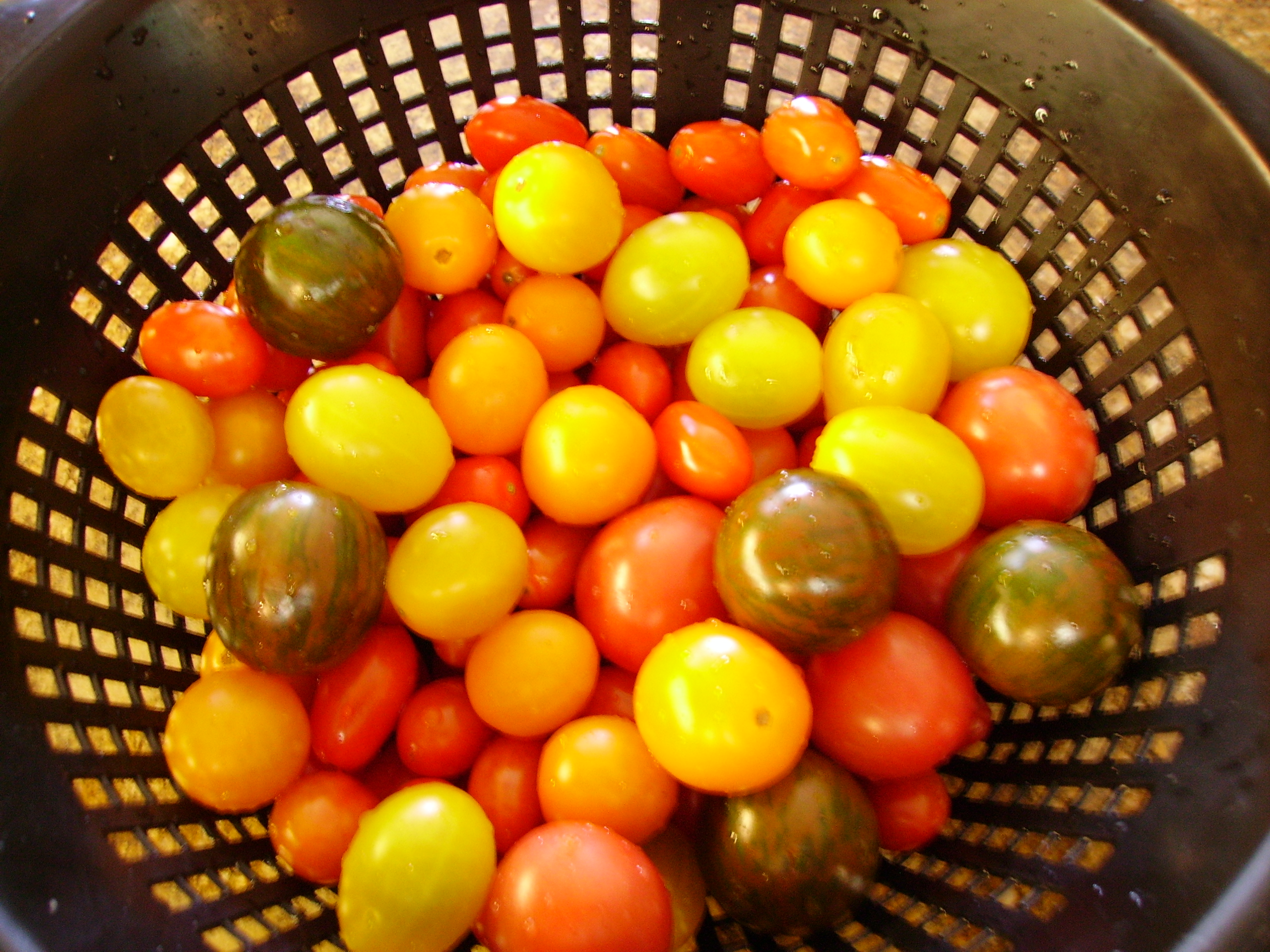 These seem to have a sweet flavor and subtle crunch year around. The colors vary from bright yellow to deep brown.
Many Bruschetta use garlic and balsamic vinegar to make their dressing. This uses Sherry Vinegar, Shallots, Rosemary and Thyme.  Agave syrup or a touch of sugar gives a rounded flavor. 
Instructions
Cut the tomatoes into small bite size pieces and put into a medium sized bowl.

Add the shallots and herbs and toss to mix.

Put vinegar, oil, and agave (sugar) in a jar with a tight fitting lid. Shake to blend completely. Pour over the tomatoes and herbs and toss to blend.

Add salt and pepper to taste. Toss again. Refrigerate for at least 4 hours or overnight. Serve on crostini.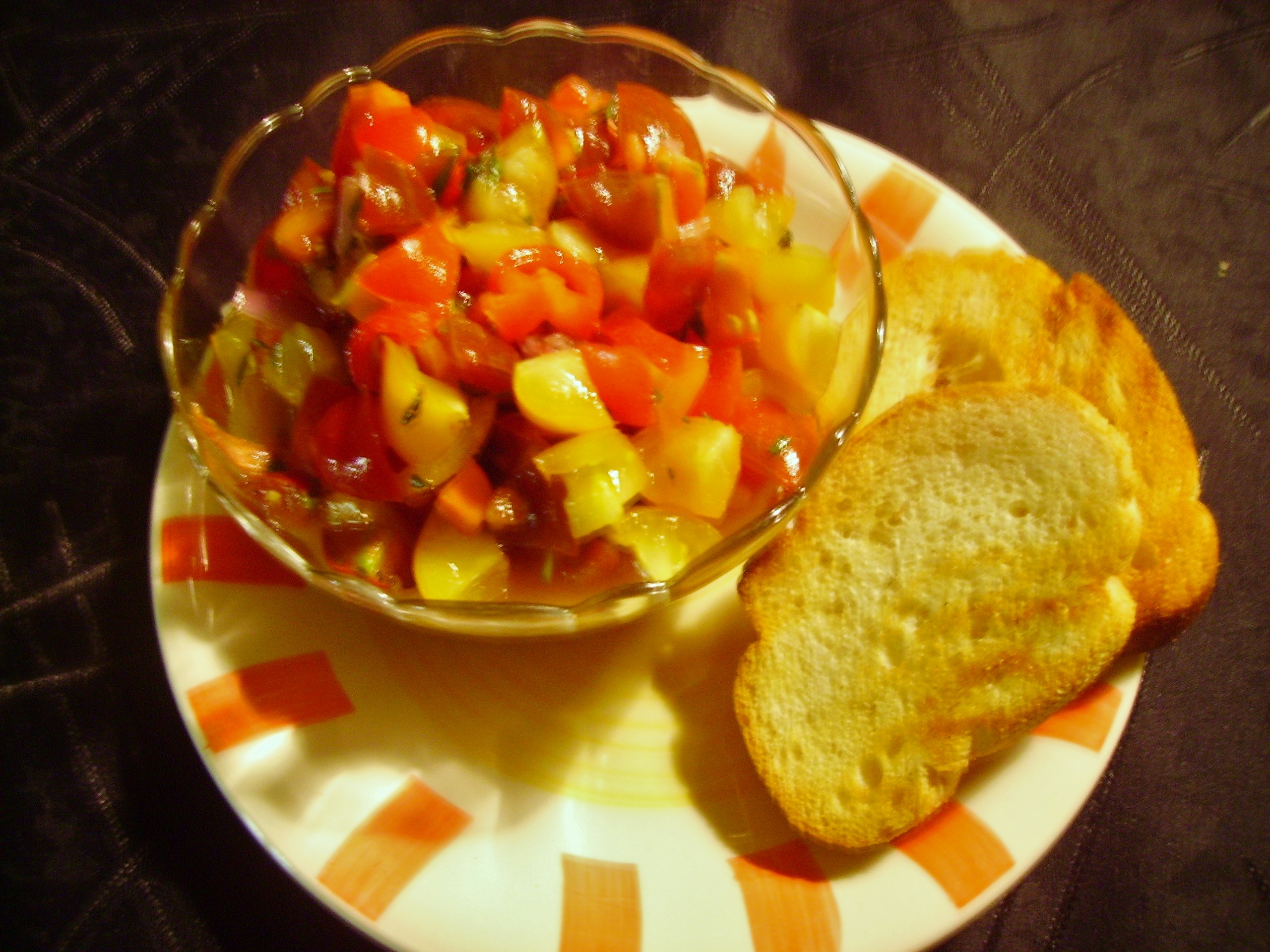 I mention Crostini as the platform for this recipe and that is what the picture shows. The difference between this and Bruschetta is a little like hair-splitting. While Bruschetta is generally grilled and remains a little tender in the center and often names the topping as well, Crostini is usually sliced thinner and is toasted to delicate crispness. I don't think anyone would take offence if you interchanged the names. They are both  marvelous bases for whatever you choose to top them with.
The next Bruschetta recipe uses more traditional ingredients and can be served as an appetizer or salad as you wish. It uses fresh mozzarella so you could even make it a main dish with some crusty rustic bread. My mozzarella of choice for this recipe is Ciliegine (the name means cherry in Italian) a bite size ball of mozzarella.
Ingredients

Servings: As an appetizer

Instructions
Put the halved tomatoes into a medium size bowl.

Place the olive oil and garlic in a small pan. Heat over very low heat until the garlic just begins to sizzle. This takes less than 5 minutes and needs to be watched carefully. DO NOT LET THE GARLIC BROWN.

Remove the oil and garlic mixture from the heat and allow to cool to room temperature. Pour over the tomatoes.

Add the ciliegine to the tomato mixture and toss gently to combine.

Add the balsamic using the amount that tastes right to you. Gently stir in the basil. Season with salt and pepper to taste. Chill for at least 4 hours.

This is great as a bruschetta on toasted bread. It also makes a wonderful salad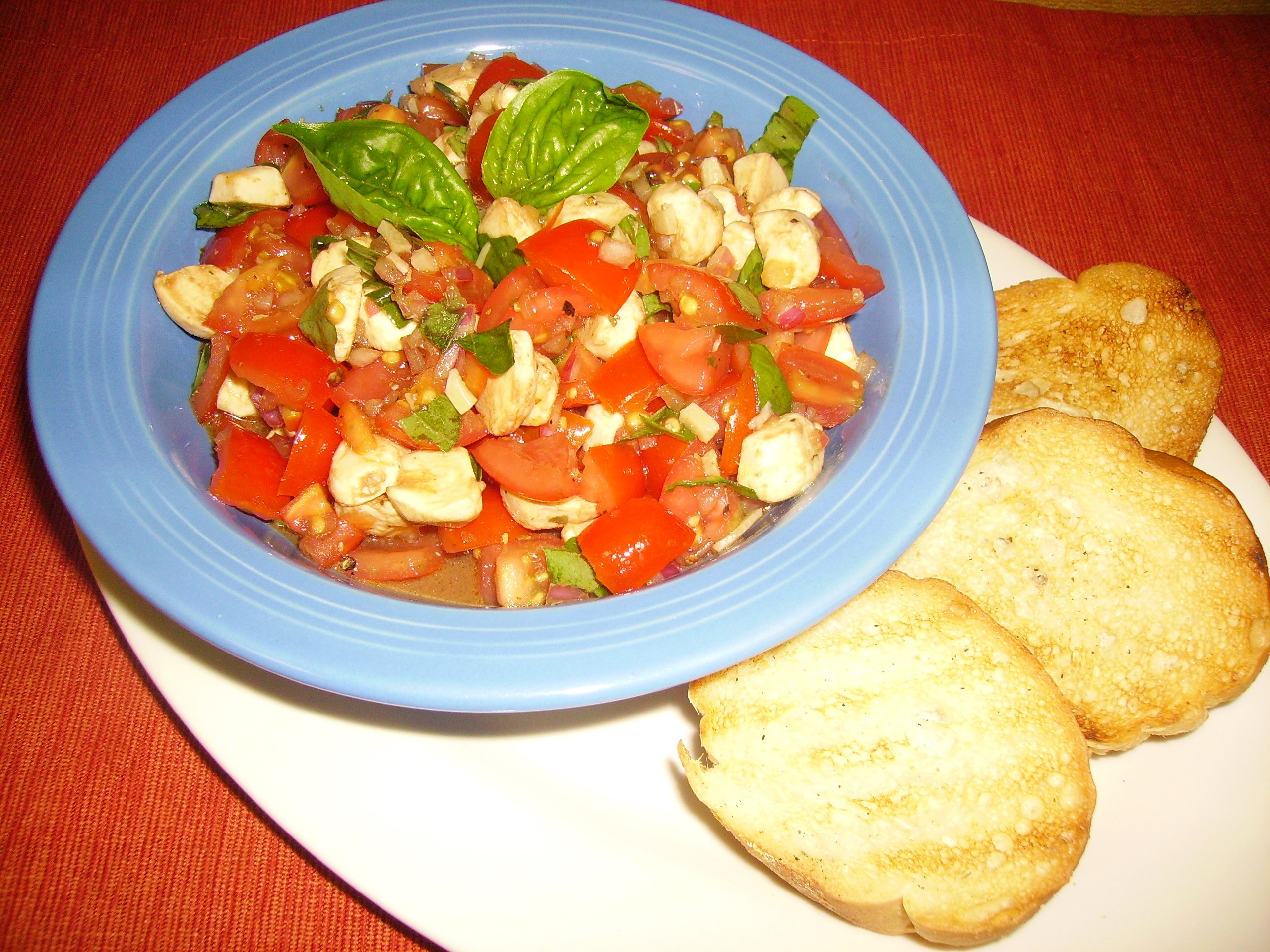 In the vast possibilities bruschetta offers there's something for everyone. On a healthy note, servings of any bruschetta tend to be small and your topping choices can reflect your desire to be naughty or nice. I plan on serving Mini Gourmet Tomato Bruschetta with Multi-grain Bread for Easter "appies". It should be a nice balance to the naughty Au Gratin Potatoes at dinner. Happy Spring. Love, Mama D