Nat King Cole sang about "Those Lazy, Hazy, Crazy Days of Summer" touting the pleasures of soda, pretzels, and beer along with weenies, beaches, girls in bikinis, and drive-ins. It was the early 60's and I was bursting into my teenage years. I was old enough to know that the song was corny, but young enough to memorize all the words.
Here in the Midwest, August brings the hottest and haziest weather. It's a time that can make one lazy and perhaps a little crazy. While soda, pretzels, and especially beer have their place now, these are the salad days of summer. Gardens and farm stands are bursting with a bounty of fruits and vegetables. Even grocery stores are featuring produce from closer to home.
The weather is warm and the kitchen can be hot so a salad makes a perfect supper. A bed of greens can be topped with almost anything, be it grilled, sautéed, or even left over, creating a one plate meal that is satisfying, healthy, and easy on the cook as well.
A recent al fresco supper featured a Cobb Salad Mama D style. Mixed greens, were graced with grilled chicken, pepper bacon, and aged gouda cheese. A drizzle of Ranch Dressing was a perfect topping. Subtly different but familiar enough to please everyone.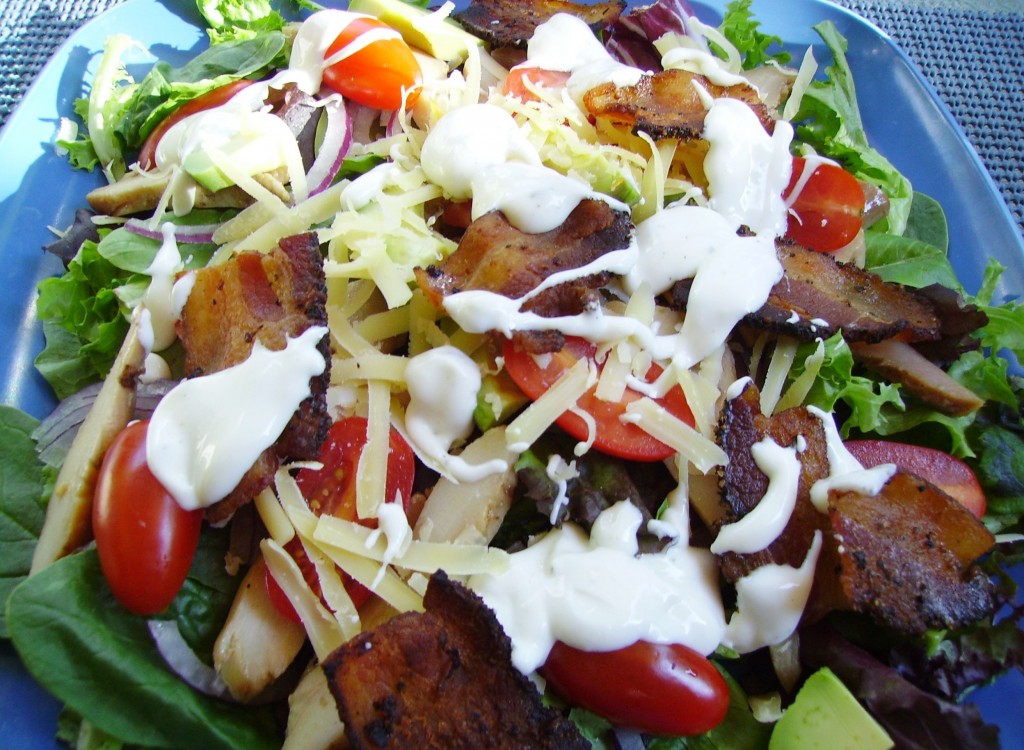 A salad can be created on the spur of the moment using whatever is on hand. A few Sunday nights ago, supper started with a visit to the pantry followed by a browse through the refrigerator. Cannellini beans spent some quality time with chopped red bell pepper, red onion and a bit of olive oil and white balsamic.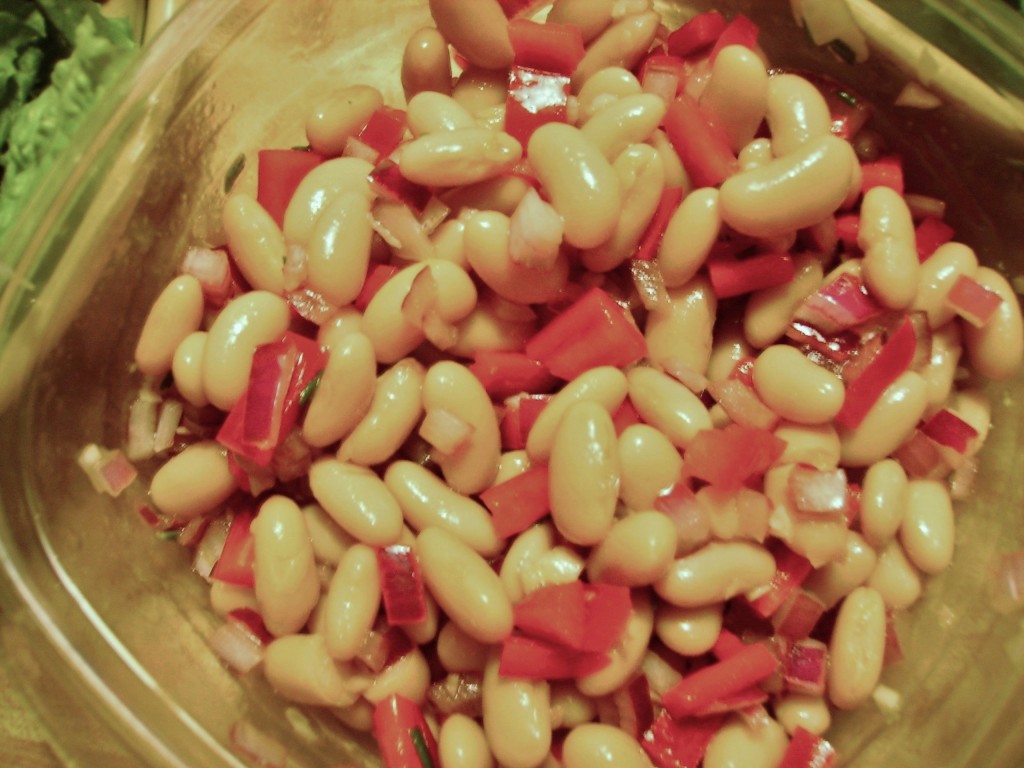 When everything was well acquainted, it joined some mixed greens, olives, tomatoes, feta cheese and toasted pine nuts to create a tasty and healthy meal.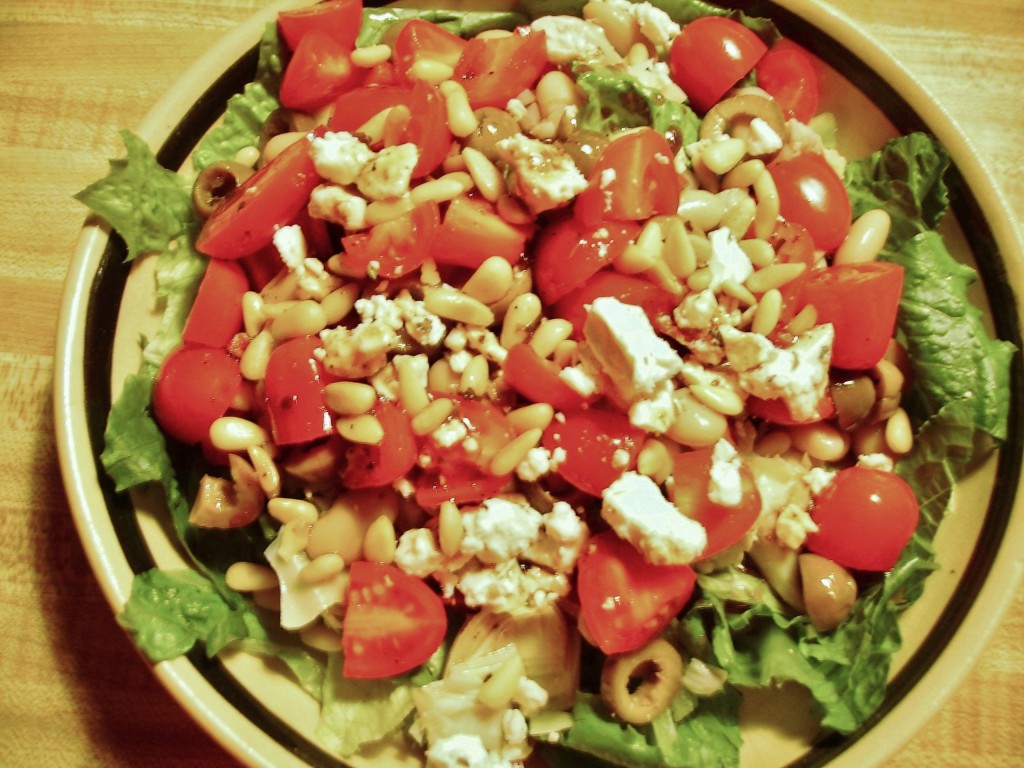 There are other times when my salads are carefully thought out and planned around specific ingredients. I had some wonderful Rainier Cherries that were begging to take center stage. These cherries have red and gold skin surrounding golden flesh that seem to shout for attention. The flavor is sweet yet slightly tart. Pitted and halved they were beautiful. Turning my back on dessert, I decided to feature them in a main dish salad. Toasted walnuts and grape tomatoes were other colorful additions.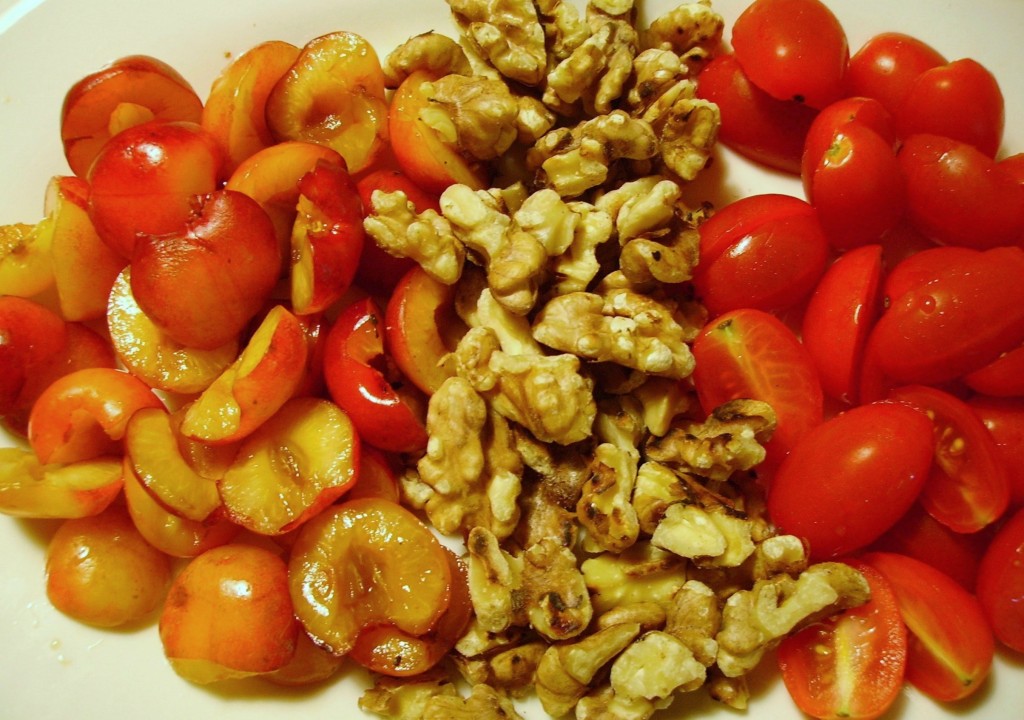 Herb coated chicken breasts were sliced and added to the salad giving it a protein boost that was incredibly tasty. The "secret" ingredient here was olive oil/cracked black pepper low-fat mayonnaise. Mixed with fresh herbs it coated the chicken and kept it moist and oh, so flavorful! This would make a wonderful main dish with a vegetable of your choice as well.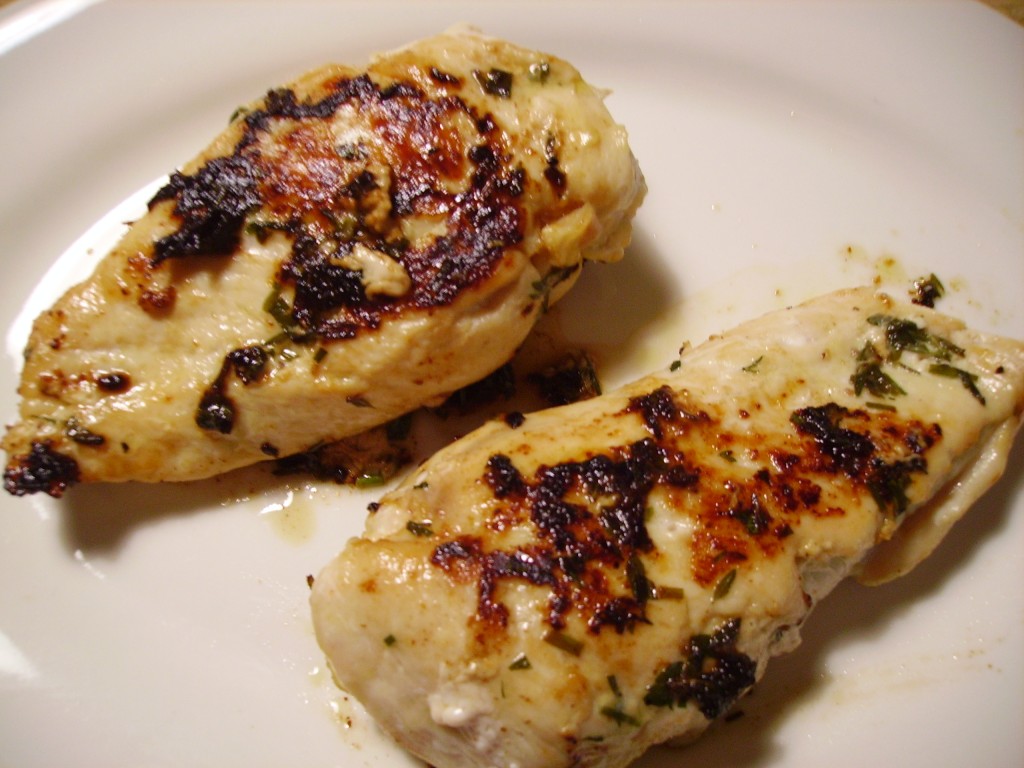 A honey, mustard, and white balsamic vinegar dressing brought out the tangy sweetness. I used a lemon infused olive oil to make the vinaigrette, but any extra virgin olive oil would be perfect, too.  A few crumbles of blue cheese gilded the proverbial lily.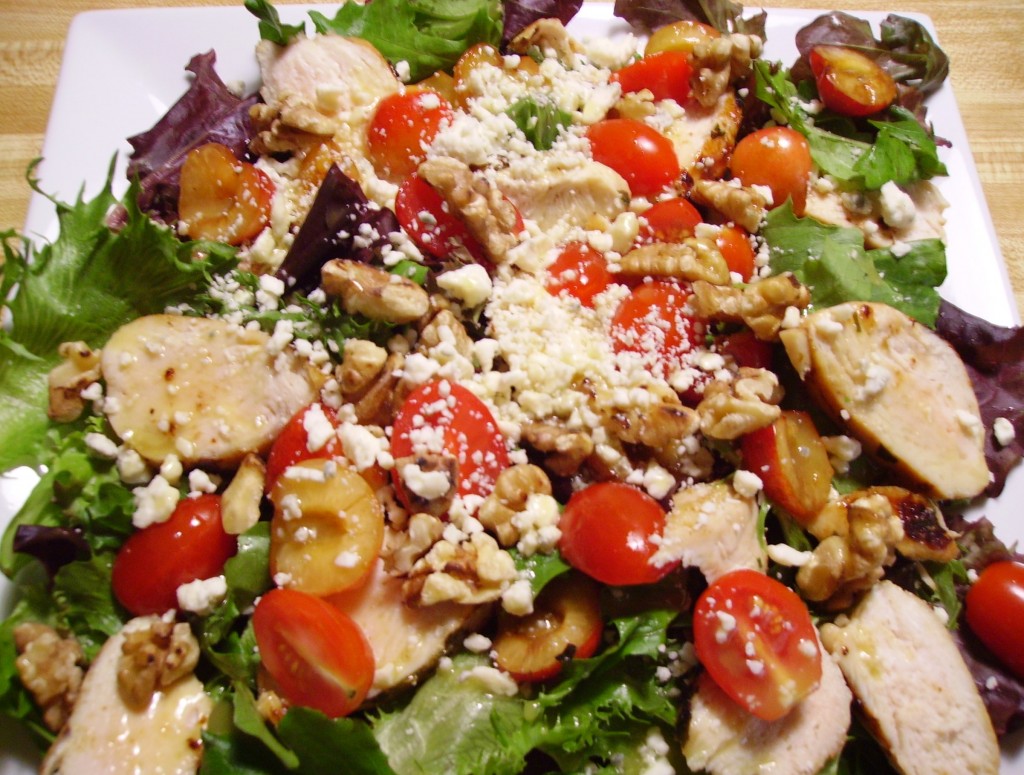 Instructions
Mix the parsley, chives, and thyme with the mayonnaise. Spread the mixture on both sides of the chicken breasts.

Heat a fry pan over medium heat. Spray lightly with non-stick spray. Add the chicken breasts and cook, turning once until cooked through, about 5-7 minutes per side. Remove from pan and allow to cool slightly.

Make the Dressing: Combine the dressing ingredients in a small jar with a tight fitting lid. Shake until everything is blended together. Refrigerate until ready to use.

Toast the walnuts over low heat in a small fry pan. Cut the cherries in half and remove the pits. Cut the grape tomatoes in half lengthwise. Set all of these aside.
Summer still has a few more weeks to reign supreme. Many fruits and vegetables have yet to reach their peak. I'll be romping through the garden (and produce department) many more times and I'm sure I'll have some interesting things to share. I'd love to hear about your latest salad adventure…Keep in touch.  
                                                               Love, Mama D