Last Christmas I gave baking my heart (there's always a Christmas song that gets stuck in your head whether you like it or not).  I was newly unemployed and had recently launched a cooking blog. I had all the time in the world and a large kitchen that could stay in baking mode indefinitely. I baked and cooked constantly and wrote about it almost every day. It was joyous and magical.
This Christmas I'm beginning another new chapter.  I've downsized my life and that includes smaller everything including my kitchen. A part-time job that eats away at my time in the peculiar way only a split shift can, makes long sessions in the kitchen a weekend luxury. In spite of all that, Mama D's Kitchen is still very much alive and it's filled with more love than ever.
Having less time and space means that organization is critical. I spent several weeks planning this year's goodies.Things that made the cut met several requirements. They had to be uniquely yummy, and they had to be easy to make. I browsed magazines and web sites as well as my own treasure trove of recipes and finally came up with my cast of characters. I made lists of ingredients and shopped carefully to assure that all the ingredients were on hand (except for the half & half and red sugar that I forgot twice). The pantry is packed with nuts, white chocolate, and dried fruits as well as the necessary flour and sugar.
This year's baking includes some old favorites that are required and quite a few new items that are competing for places in the favorites lineup. Some of the new recipes use a "short-cut" of one kind or another. Often it is something that comes from a package. There is no shame in using a package mix if the result is delicious and the package ingredients don't offend one's health sensibilities completely. Remember too, we are not making something to be the main meal..only a small sweet to be enjoyed as a treat.
I found the recipe for Mocha Crinkles in a Kraft magazine. Devil's food cake mix joins semisweet chocolate and instant coffee to make a cookie with deep dark chocolate and coffee richness.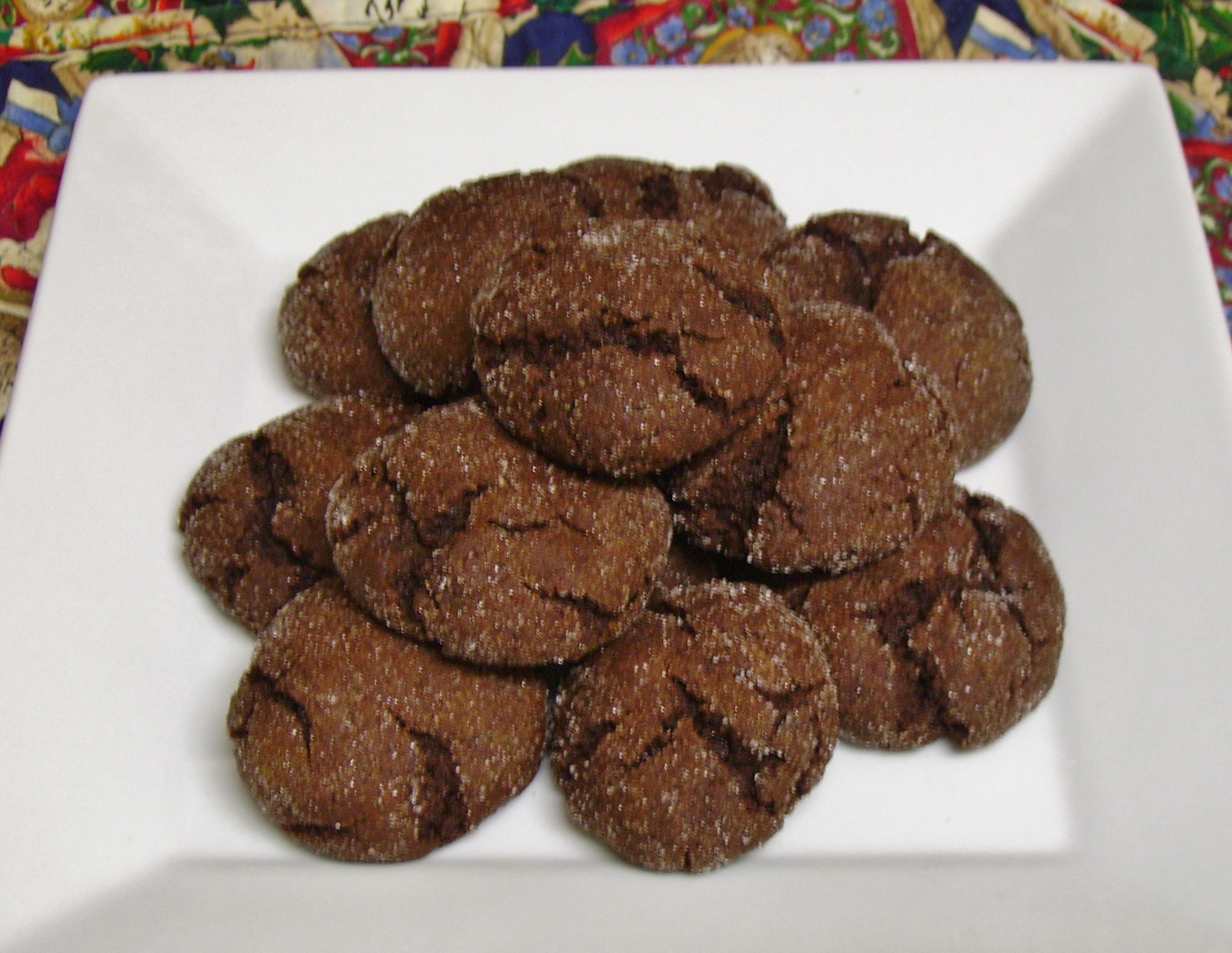 The only challenge presented was melting the chocolate. Not only do I not have a microwave, I no longer have a double boiler. I found a perfect substitute using a dutch oven and a metal mixing bowl.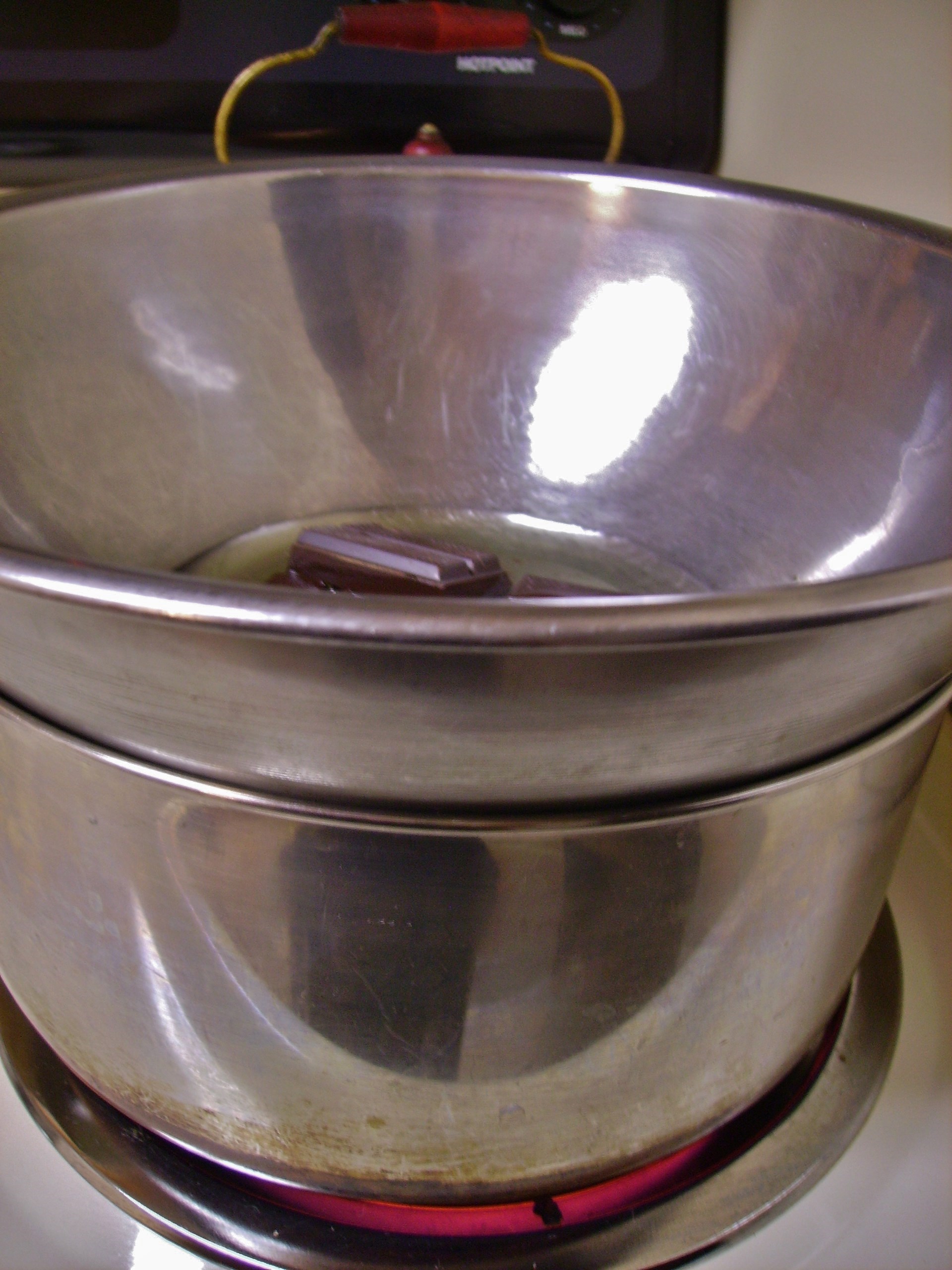 The plus here was that ingredients were already in the mixing bowl so it was one less bowl to wash.
These cookies have a wonderful deep chocolate flavor that the coffee enhances. The coffee flavor is subtle but the aroma is right there. Next time I think I'll use espresso powder for a little more coffee punch.
As long as I can remember, I've made biscotti at Christmas. I've made many different kinds from chocolate to pistachio and cranberry. I always come back to my tried and true Almond and Anise.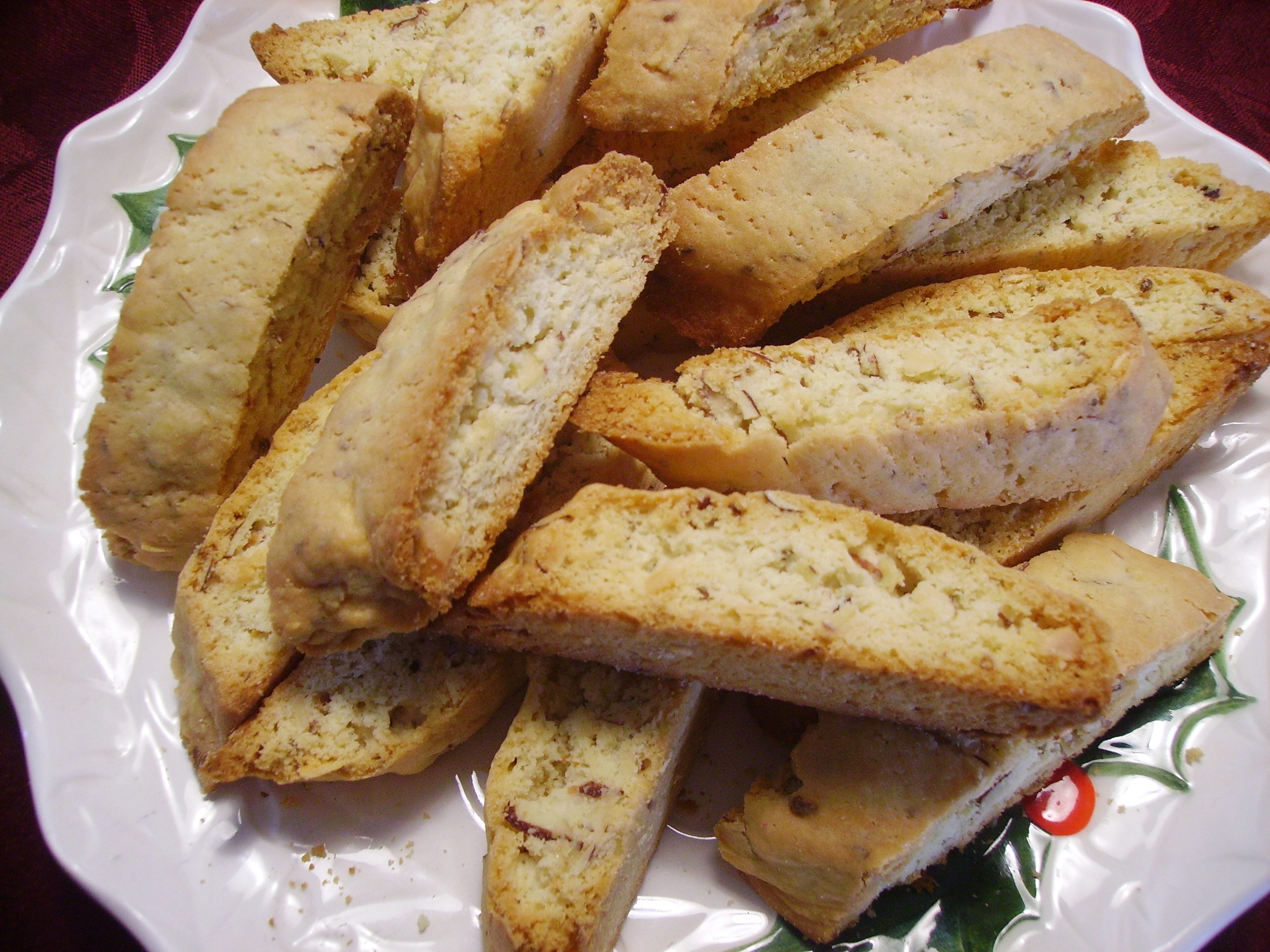 These are the cookies I grew up loving and that love has only grown stronger through the years. While the licorice-y sweetness of the anise seed is an acquired taste for many, it is a flavor profile that literally screams for coffee or some red wine to me. This recipe creates a cookie that is tender yet crisp. I make them in a size that as my mother used to say looks pretty on a cookie tray. The recipe makes a batch that is large enough to fill several cookie trays and still have enough to give away.
Ingredients

Servings: dozen

Instructions
Beat butter and sugar until well incorporated using an electric mixer. Add the eggs and beat until light and fluffy. Add the flavorings and the anise seeds and mix until well combined. Add the almonds and mix until combined. This is easier than adding the almonds after the flour.

Whisk flour baking powder and salt together to aerate and blend. Slowly mix flour mixture into the wet mixture. You will have to add the last flour and mix by hand. Gather dough together and turn onto a lightly floured board, pat into a flat round.

Divide the dough into six equal pieces. Pat and roll each piece into a log 12 - 14 inches long. Flatten the log to 1/2 inch thick and 2 inches wide. At this point they are ready to bake. If you want you to bake them later, wrap each log in plastic wrap and store in the refrigerator for up to 5 days. Let logs come to room temperature before you bake them.

When you are ready to bake, heat the oven to 350 degrees. Place no more than 2 logs on each greased or parchment lined baking sheet. Bake one sheet at a time for 15 - 20 minutes.Remove from oven let cool several minutes until easily handled. Carefully move each log to a cutting board. Using a serrated knife, cut logs crosswise into 3/4 inch slices.

Lay cut side down back on the baking sheet. Return to oven and bake 15 - 20 minutes more, turning the cookies after after 8 - 10 minutes to toast other side.

Place the cookies on a rack to cool. Store airtight. These will keep for about a week. They can be frozen for a month or so.
As the "Big Day" draws closer, my kitchen is filling with love and goodies. I hope you are finding more than enough love and a good amount of goodies in your own kitchen.
Mama D