Summer has arrived in Mama D's Kitchen. I'm officially on Summer vacation for 3 whole weeks! Instead of rising before 5 every morning to get on a school bus, I can get up early (if I want) and do what I want. Morning walks, afternoon swims, puttering in the garden, and more than a little time with my grandsons. It also means that I have more time to spend in the kitchen and with the bounty of fresh produce around, inspiration is always arriving.
Once summer is firmly entrenched meals just naturally get lighter. Recently we feasted on Grilled Turkey Italian Sausage that was accompanied by a simple Artichoke and Tomato Salad and a riff on my Farro Risotto that I affectionately call Scarborough Farro.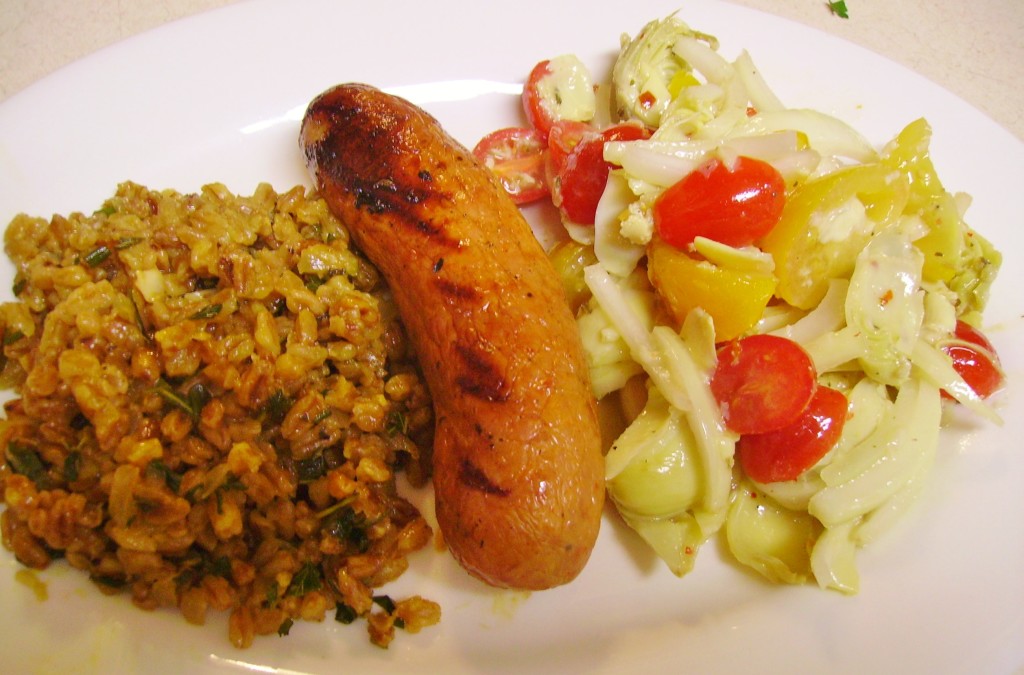 Parsley, Sage, Rosemary, and Thyme, of course, feature prominently in this dish. If you haven't listened to  Scarborough Fair lately, take a few minutes to go back to a time that was simpler, yet very complex. Superficially a peaceful song based on an old English ballad, it intertwines with an anti-war song not so subtly protesting the Vietnam War.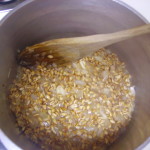 Farro has been cooking up in my kitchen a lot lately. I followed the same steps that I did for the Farro Risotto, cooking onion as well as garlic along with the uncooked  farro in some olive oil. I added some chicken stock and let it cook for a good 20 minutes.Towards the end I added my herbaceous quartet. These four herbs get along really well together with a sweet harmony much like Simon & Grafunkel. The best part was they all came from our garden.
Click on the link to the farro risotto recipe above. Once you're there, do a few substitutions. Leave out the spinach and roasted peppers (though I think they could stay in if you like) and add a good 1/3 – 1/2 cup of chopped fresh herbs near the end of the cooking. My personal preference was to let the thyme and parsley take the lead vocal while the rosemary and sage provided the harmony. Make a blend that will sing your own song. 
Now to that Artichoke  and Tomato Salad: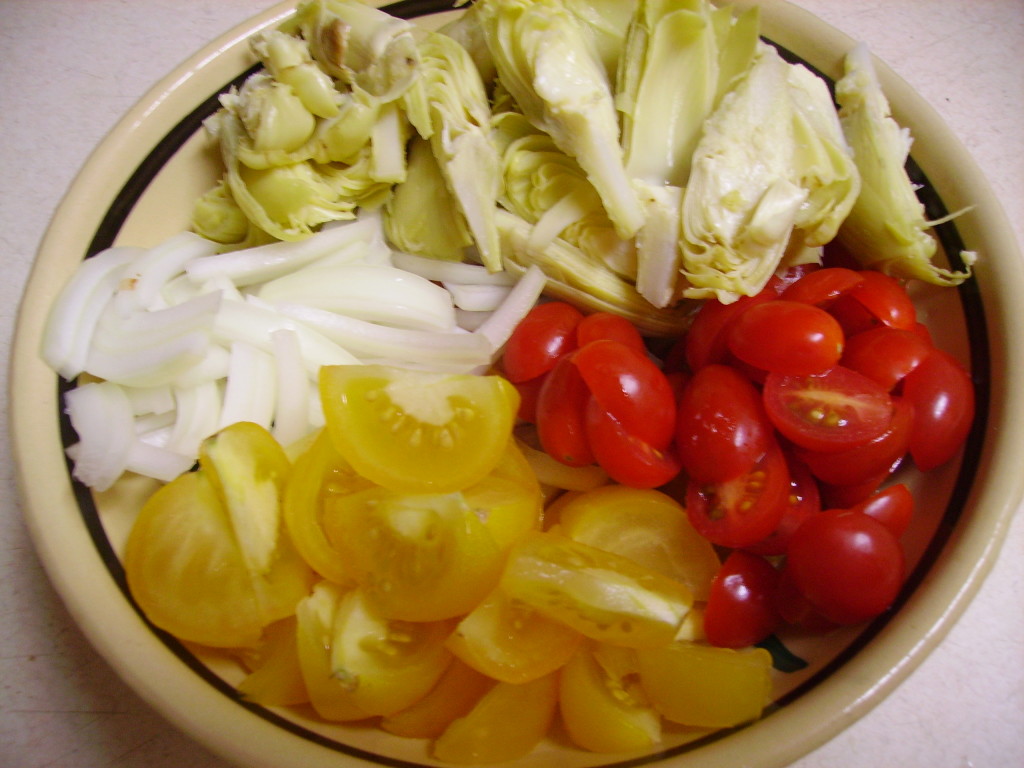 I used a can of whole artichoke hearts, I find that I get better pieces when I cut them myself. If you can find fresh baby artichokes, by all means go for it. They are hard to find in this part of the country, but if you do find them it will make this salad even more amazing. I used a combination of red grape and yellow cherry tomatoes, mainly because it's what I had on hand. Sweet onion was the final component.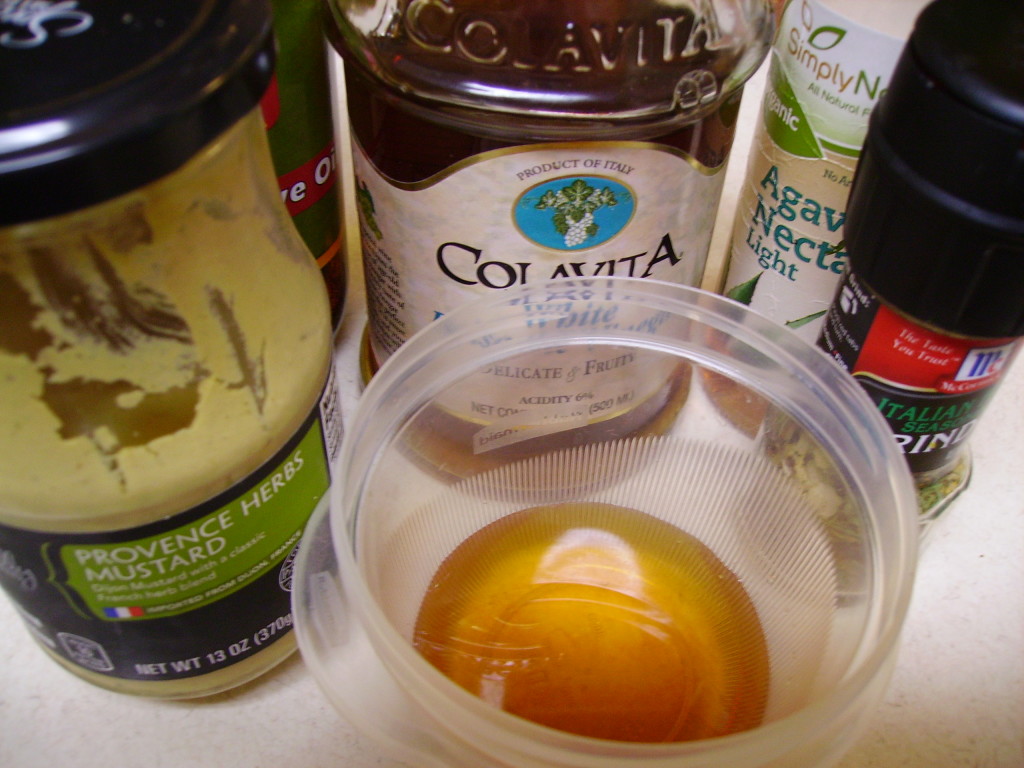 I made a straight forward vinaigrette. I added just a touch of Agave Syrup. Since my dressings tend to be light on the oil, this bit of sweetness balances the acidity and creates a better texture. Everything went together early in the day so that when it was time for dinner everyone was well acquainted.
Instructions
Combine the artichokes, tomatoes, and onion in a bowl. Toss gently to mix.

Combine the remaining ingredients in a jar with a tight fitting lid. Close tightly and shake until all of the ingredients are thoroughly blended.

Pour the dressing over the vegetable and toss to coat. Cover and refrigerate for at least 2 hours (more is better).

Serve with your favorite grilled meat, fish, or poultry.
Summer is here and the Kitchen of Love is bursting with inspiration. I have lots of adventures to share with you and a memory or two as well, so keep tuning in.             Love, Mama D